The cannabis community has much to be thankful for in 2018 and this is the best time of the year to focus on the positives. This post from Green Flower gives us eight reasons to show our gratitude.
Thanksgiving week is upon us, and the Green Flower team is hopeful that you are surrounded by friends, family, love, and amazing food all week!
This week is often full of reflection for most, specifically around what people are thankful for.
For the cannabis community, there is much to be thankful for right now. That's not to say that everything is perfect in the cannabis world because there's a lot of work left to do.
However, it's important for the cannabis community to reflect on the positive just as much as it is for the community to work towards improving the negative.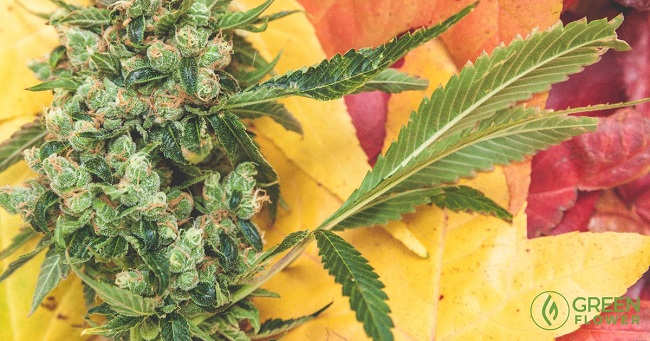 1. Record level of support for legalization in the U.S.
Gallup has been polling adults in the United States since 1969 on the question of whether they support cannabis legalization or not.
In 1969 the 'yes' crowd was at a dismal 12%. If you zoom forward to today, a record 66% answered 'yes' to the question of if they support cannabis legalization or not.
It's likely that many people always supported cannabis legalization and are just now comfortable enough to admit it.
Regardless of whether that's the case or not, the level of support is something that advocates should be very thankful for.
2. 10 states have passed legalization measures
With the 2018 midterm election behind us, the number of states that have legalized cannabis for adult use up to 10, as well as Washington D.C.
Notably, legal adult-use sales began in Massachusetts this week, and Michigan's new legalization law is set to take effect on December 6.
Freedom is spreading across the country at a rapid pace by political movement standards, and that is absolutely worth celebrating.
3. Almost 3 dozen states have legalized medical cannabis
California became the first state to legalize cannabis for medical use in 1996. Since that time the number has ballooned to 33 states.
Several other states have passed CBD-specific measures. Only four states are still full prohibition states.
Unless you live in one of those four states, you should be thankful, and even if you live in a full prohibition state, you can be thankful that compassion will likely come to your state soon.
4. International reforms are spreading
This year Canada became the second country to legalize cannabis for adult use, and a court decision in Mexico this year effectively did the same.
Mexico does not have a regulated system yet, but an effort to make it a reality is already underway.
Medical cannabis is spreading around the globe, and while there are still many countries that have terrible cannabis laws, more of them are getting on the right side of history all the time.
5. The cannabis industry is booming
By every measure, the cannabis industry is expanding and succeeding in a very impressive way.
Jobs are being created daily, tax revenues are pouring in, and the industry's success is changing people's minds about cannabis reform.
If you work in the cannabis industry or aspire to, you should be very thankful that industry opportunities exist, because that wasn't the case just a handful of years ago!
6. Reduction in stigma
The stigma that surrounds the cannabis plant and those that use it may not be completely eliminated, but it is reducing with every passing day.
As such, more and more people are coming out green and feeling free to be their true selves no matter where they are at.
Many people are still keeping their cannabis consumption a secret, and we must continue to strive to improve things, but the Green Flower team is thankful that more and more people can live freely.
7. Increase in research
For many years cannabis researchers and scientists have faced heavy restrictions around studying this plant.
Thankfully that is starting to change.
More cannabis research information exists now than ever before, and more research is being conducted as you read this article.
Current and future medical cannabis patients will benefit from the research and that is a fantastic thing!
And of course, there are already way more studies on cannabis than you might realize.
8. More cannabis info and knowledge is available than ever before
Over the course of many decades, credible and accurate information about cannabis was suppressed by cannabis opponents.
We now live in an age where information is just a click away, and that is true for cannabis as much as it is for any other topic.
Access to quality info is definitely something to thankful for, although how much of that info online is true and credible?
This is why the Green Flower team strives to bring you trusted cannabis knowledge on a regular basis, and we will continue to do so into the future.
At Green Flower, we are extremely thankful for your support and encourage you to check out as much of our cannabis educational content as possible if you want to get the most benefits from this plant or make informed cannabis decisions in your life.
Source: The Cannabis Community Has Much To Be Thankful For In 2018