U.S. Senate votes to legalize industrial hemp after decades-long ban under marijuana prohibition. This post from Forbes explains the passing of Farm Bill in more detail.
The non-psychoactive cannabis cousin of marijuana would finally become legal to grow in the United States under a bill overwhelmingly approved by the Senate.
The wide-ranging agriculture and food policy legislation known as the Farm Bill, passed by a vote of 86 – 11 on Thursday, contains provisions to legalize the cultivation, processing and sale of industrial hemp.
The move, championed by Senate Majority Leader Mitch McConnell (R-KY), would also make hemp plants eligible for crop insurance.
"Consumers across America buy hundreds of millions in retail products every year that contain hemp," McConnell said in a floor speech on Thursday. "But due to outdated federal regulations that do not sufficiently distinguish this industrial crop from its illicit cousin, American farmers have been mostly unable to meet that demand themselves. It's left consumers with little choice but to buy imported hemp products from foreign-produced hemp."
McConnell also took to the Senate floor on Tuesday and Wednesday to tout the bill's hemp legalization provisions in separate speeches.
In April, the GOP leader introduced standalone legislation to legalize hemp, the Hemp Farming Act, the provisions of which were included in the larger Farm Bill when it was unveiled earlier this month.
The Senate Committee on Agriculture, Nutrition and Forestry approved the bill by a vote of 20-1 two weeks ago.
During that committee markup, Sen. Charles Grassley (R-IA), one of Congress's most ardent opponents of marijuana law reform, threatened to pursue serious changes to the bill's hemp provisions on the floor. Namely, he wanted to remove the legalization of derivatives of the cannabis plant, such as cannabidiol (CBD), which is used by many people for medical purposes. But Grassley never ended up filing a floor amendment, allowing hemp supporters to avoid a contentious debate and potentially devastating changes to the bill.
Hemp legalization enjoys broad bipartisan support.
"Legalizing hemp nationwide ends decades of bad policymaking and opens up untold economic opportunity for farmers in Oregon and across the country," Sen. Ron Wyden (D-OR) said upon passage of the Farm Bill on Thursday. "Our bipartisan legislation will spur economic growth in rural communities by creating much-needed red, white and blue jobs that pay well. I'm proud to have worked with my colleagues to get the bipartisan Hemp Farming Act through the Senate. Today marks a long-overdue, huge step forward for American-grown hemp."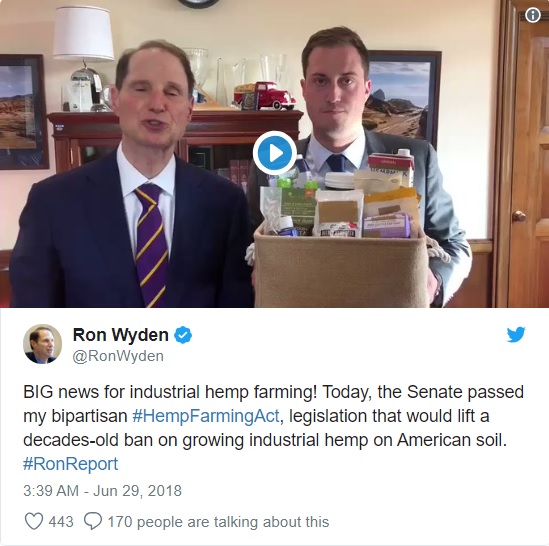 Earlier this month, the Senate approved a nonbinding resolution recognizing hemp's "growing economic potential."
"For the first time in 80 years, this bill legalizes hemp. We forget, but hemp was widely grown in the United States throughout the mid-1800s," Sen. Michael Bennet (D-CO) said in a floor speech on Wednesday. "Americans used hemp in fabrics, wine, and paper. Our government treated industrial hemp like any other farm commodity until the early 20th century, when a 1937 law defined it as a narcotic drug, dramatically limiting its growth. This became even worse in 1970 when hemp became a schedule I controlled substance. In Colorado, as is true across the country–I have talked to a lot of colleagues about this–we see hemp as a great opportunity to diversify our farms and manufacture high-margin products for the American people."
McConnell's standalone hemp bill currently has 29 cosponsors signed on—17 Democrats, nine Republicans and two independents.
A Congressional Research Service report released last week says that the "global market for hemp consists of more than 25,000 products."
House Republican leaders blocked a vote to make hemp legalization part of that chamber's version of the Farm Bill. But now that the language is included in the version approved by the Senate, it will be part of discussions by the bicameral conference committee that will merge both chambers' bills into a single piece of legislation to be send to President Trump's desk. All indications are that McConnell, as the most powerful senator, will fight hard for the survival of his hemp proposal.
A White House statement of administration policy released this week outlining concerns with the Farm Bill does not mention its hemp legalization provisions.
In 2014, McConnell included provisions to allow limited state-authorized hemp research programs in that year's version of the Farm Bill.
Kentucky's agriculture commissioner cheered the passage of the new hemp provisions on Thursday.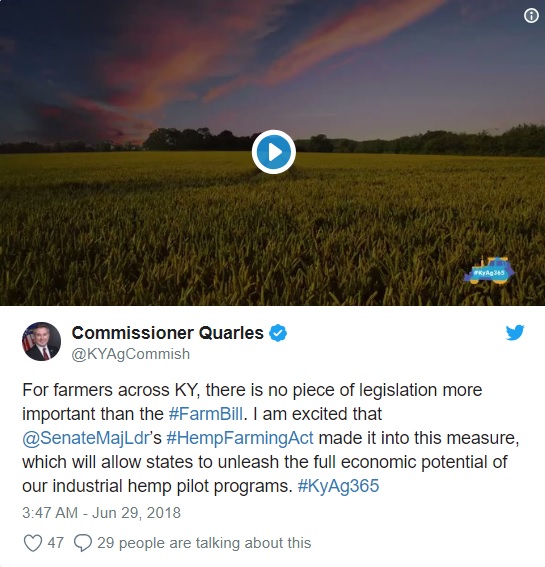 Featured Photo By CHRIS WALLIS // SIDE POCKET IMAGES
Source: U.S. Senate Votes To Legalize Hemp After Decades-Long Ban Under Marijuana Prohibition