As more states go for marijuana legalization, advocates see signs suggesting Texas too may move that way. This post from The Texas Tribune highlights the reasons for optimism in Texas.
In Texas, both political parties now support loosening the restrictions on marijuana in their platforms. That's just the clearest sign that both public opinion and the political calculus on pot are rapidly shifting.
Texas isn't likely to be the next Colorado or California. The state almost certainly won't be the next one to legalize recreational marijuana use. But there are signs that both the public opinion and political calculus on pot are shifting in Texas, with advocates hopeful that those shifts could yield significant progress during next year's legislative session.
For over a decade, Texas lawmakers have filed bills aimed at weakening Texas' rigid marijuana laws. Those always went nowhere until 2015, when Gov. Greg Abbott signed the Compassionate Use Act, which legalized the sale of a specific kind of cannabis oil for Texans with intractable epilepsy. Three dispensaries have since opened in Texas to produce and sell the oil.
Though no further pro-marijuana bills passed during the next session in 2017, last month's state Republican and Democratic conventions gave advocates a new reason for optimism.
At the GOP convention in San Antonio, attendees approved for the first time a plank in the party's platform supporting "a change in the law to make it a civil, and not a criminal, offense for legal adults only to possess one ounce or less of marijuana for personal use." Even Democrats — who've advocated for marijuana decriminalization in their platform since 2012 — tweaked their platform at this year's convention in Fort Worth to call for full legalization.
The new language for both parties not only signals a change in public perception, but is prompting advocates to wonder whether marijuana will become more of a hot-button issue ahead of the 2018 general election and next year's legislative session.
"Marijuana is definitely something we're going to see being talked about more and more," said Heather Fazio, the coalition coordinator for Texans for Responsible Marijuana Policy. "The public is in favor of seeing marijuana laws reformed and we're already seeing candidates start to talk about it."
Shift coming from GOP grassroots
According to the latest University of Texas/Texas Tribune poll, more than half of the state's registered voters believe marijuana should be legalized in the state. Only 16 percent said possession of marijuana should remain illegal under any circumstances.
UT/TT POLL
Should marijuana be legal in Texas?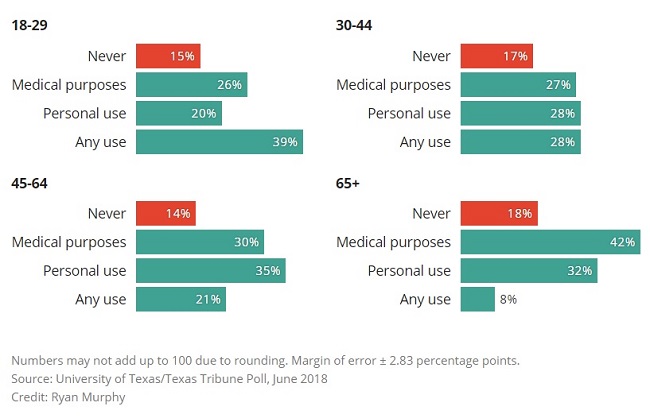 Most Texas Democrats running for office are in favor of reforming the state's marijuana laws — with many supportive of legalizing the substance for personal use. William Kelly, a sociology professor at the University of Texas at Austin, said voters would be hard-pressed to find a Democrat who isn't in favor of more lax marijuana laws because most members of the minority party view drug and marijuana issues as a public health issue rather than criminal justice one.
"[Democrats] have concluded that we've gotten essentially nowhere with our drug policy in terms of trying to punish drug use and addiction out of people," Kelly said. "I think the broader failures of the war on drugs and the relative popularity of the recreational use of marijuana is a pretty easy sell for Democrats."
And some Democrats campaigning at the top of the ticket are noticeably upfront about their pro-pot stances. In the gubernatorial race, Democratic nominee Lupe Valdez said she favors decriminalizing marijuana, legalizing it for medical use and seriously discussing full legalization.
"Legalizing it for all forms opens up valuable funding potential, and the citizens of Texas deserve an open conversation about that possibility," Valdez told The Texas Tribune in an emailed statement. "I would support a movement in the state Legislature to bring this proposition before Texans by referendum through a constitutional amendment and ensure a path to safe, responsible consumption."
Marijuana legalization and the war on drugs has also been has been one of many causes of political friction in the U.S. Senate race between Republican incumbent Ted Cruz and his Democratic challenger, U.S. Rep. Beto O'Rourke. Though he's personally against legalization, Cruz has said that that issue should be up to each state. O'Rourke has advocated for legalization since his days on the El Paso City Council, going so far as to write a book in 2011 advocating for ending the federal prohibition on marijuana.
Texas Democrats in favor of legalizing marijuana for non-medical purposes is nothing new. But what's come as a shock to politicos is a push for more lax marijuana laws from Republicans, who dominate all levels of state government and haven't typically been vocal supporters of the issue. At this year's convention, the party approved five new marijuana-related planks to its platform, including one in support of decriminalizing small amounts for personal use and another asking Congress to re-categorize cannabis as a Schedule 2 substance, rather than Schedule 1, which includes drugs like LSD and heroin.
"The bottom line is that if something changes, it is because the grassroots activists and delegates wanted it to change," said Mark Ramsey, a member of the State Republican Executive Committee and chair of the party's platform committee.
Ramsey said he was not aware of any dialogue with the governor's office on the party's additions to the platform; a spokesman for Abbott didn't respond to the Tribune's request for comment on reducing criminal penalties for individuals with small amounts of marijuana. As a candidate for governor in 2014, he opposed legalization, viewing it as encouraging drug use. And ahead of last year's legislative session, he reiterated his stance and told the Tribune that lawmakers would not approve legislation that would legalize the plant.
But even some who've previously been opponents of relaxing the state's pot laws are showing signs of amending their position. Kevin Lawrence, the executive director of the Texas Municipal Police Association, said his group is opposed to legalization or decriminalization because there is no means to test drivers to determine how affected they are. But as technological advancements increase, he said, there's potential for his organization's position to change.
"There is still no scientifically accepted, judicially recognized, standardized, field sobriety test for marijuana," Lawrence said. "We are hearing that we are close and we're getting closer and closer to that all the time, and that will probably change our board's position on this issue when that day comes."
"Right now, our concern is on the enforcement and putting officers in a position where they can't enforce the laws on the books," he added.
Kelly, the UT-Austin professor, said it's relatively harmless politically for Republicans to add a decriminalization plank to their platform because "there is majority support for loosening the criminal consequences for marijuana."
"As far as the politics of it, they see it as something that will not catch a lot of flack from their base," Kelly said.
"Let's get this on the governor's desk"
While marijuana has yet to become a prominent issue in the upcoming general elections, advocates are hopeful it'll make a splash in 2019. Various groups are likely to urge legislators to consider a range of proposals, including legalizing marijuana for medicinal purposes, lessening criminal penalties for those found with small amounts of the drug, or going one step further and having Texas join the 22 other states that have decriminalized small amounts of the drug.
State Rep. James White, a Republican from Hillister, sponsored a measure last session that would've created a specialty court for certain first-time marijuana possession offenders. Though it failed to gain traction, he's hopeful it's a change in the state's policy more members of his party can get behind, noting that someone possessing a small amount of marijuana in their homes are "not endangering the public safety of their fellow citizens."
"[Republicans] may disagree with the use of marijuana, but we want to make sure that any punishment associated with possession is coherent with its impact on public safety," he added.
UT/TT POLL
Reduce punishment for marijuana possession?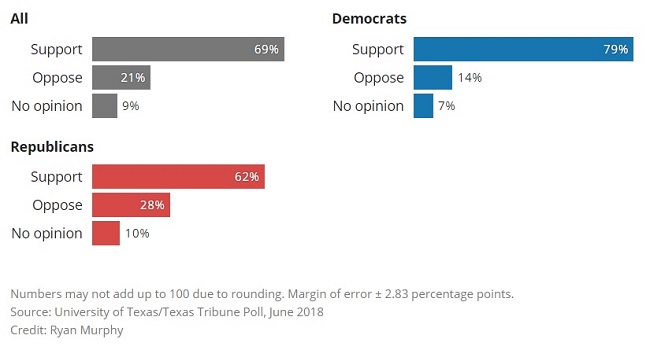 Marc Levin, the vice president of criminal justice policy for the Texas Public Policy Foundation, said the conservative think tank has supported reducing criminal penalties for those found with small amounts of pot for several sessions. He added that TPPF's own polling showed most Texans agree with them on the issue.
"There was a poll that we released a couple of months ago … and it did show the majority of Texans — and the majority of Republican primary voters in Texas — supported some sort of change to existing law," Levin said. "Voters either want to reduce criminal [penalties] or to go further. There's no doubt there's been a change in societal attitudes, and conservatives and Republicans have been a big part of that."
Lawmakers, too, are already preparing for how shifting public opinion on marijuana could play out next year. State Rep. Eddie Lucio III, D-Brownsville, previously told the Tribune he plans to re-file a measure that failed last session which would've expanded the Compassionate Use Act and allowed the use of medical cannabis for qualifying patients with debilitating medical conditions such as terminal cancer and post-traumatic stress disorder. The bill never made it to the House floor for a vote last year despite having nearly 80 representatives signed on as supporters.
"It's obviously more realistic this measure can pass in 2019. You're going to find that a majority of voters in both parties support an expansion of the Compassionate Use Act," said state Sen. José Menéndez, a San Antonio Democrat and the Senate sponsor of Lucio's measure. "I'm ready to move, I'm ready to have a hearing and I'm ready for my constituents to have their voices heard."
"Let's get this on the governor's desk," he added.
And with renewed faith in bipartisan support for some pro-pot measures, Texas Democrats say they're also hopeful that they can pass a decriminalization bill. State Rep. Joe Moody, D-El Paso, has filed decriminalization measures for the past two legislative sessions to no avail. But he's more confident heading into next year.
"To see [the decriminalization plank] succeed in the Republican party's platform means that there is a broader consensus about that policy shift, and that, in and of itself, is going to create some sense of momentum within the Legislature," Moody said. "That certainly does give me a greater sense of hope heading into 2019."
And other lawmakers say Moody has good reason to be optimistic.
"I think there's a lot of room for some bipartisan agreement," White said. "I look forward to having those discussions with all of my colleagues on both sides of the aisle and actually getting something done."
Featured Image: Illustration by Todd Wiseman
Source: Marijuana legalization in Texas? Advocates see reasons for optimistic | The Texas Tribune