Cannabis scientists are exploring terpenes and discerning consumers are only too happy. This post from Mashable highlights why weed companies are experimenting with terpenes.
Chicken and waffles. Moscow Mule. Gingerbread cookies. Plum.
Joe Edwards says he's made cannabis flower taste like all of the above and then some, using a high-tech curing unit produced by Colorado startup Yofumo.
The plum was made specially for his grandma who uses cannabis for her arthritis pain but hates the taste.
"My grandmother has no interest in Skunk No. 1," Edwards, vice president of client applications and deployment at Yofumo, jokes, referring to a popular cannabis strain that smells, well, skunky.
Yofumo is part of a growing contingent of companies using science and tech to experiment with cannabis terpenes. Terpenes are aromatic organic compounds found naturally in marijuana, and they impact weed's flavor and smell. The type and amount can also have varying biological effects when paired with THC and CBD, according to marijuana researchers.
As terpene experimentation advances, more producers are adding the amount and type of terpenes in their offerings to product descriptions. The compound, lesser-known among the general public, is something consumers are becoming more aware of as they seek out a specific kind of high — or flavor.
"We're seeing a lot of our patients, or our clients, are demanding to be able to see terpene expression data for the flower that they purchase," says Philippe Henry, director of R&D genetics and analytics at Flowr, which operates cultivation facilities in Canada.
"It's part of educating people that they can make better choices," adds Henry, who has a Ph.D. in population genetics and has analyzed 5,000 cannabis plants to study terpenes and genetic markers.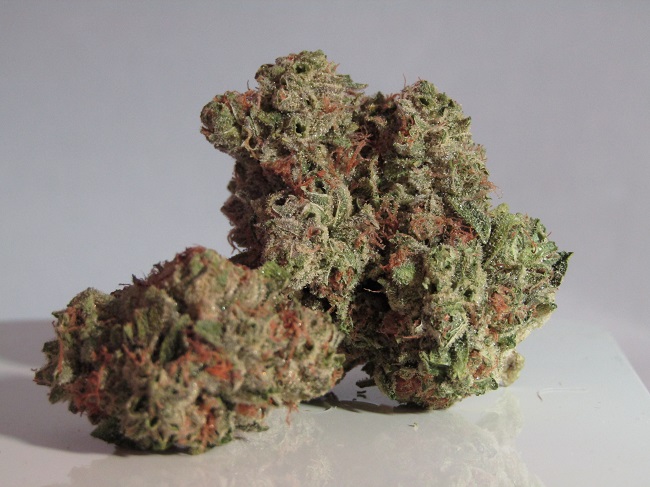 Sometimes marketing gets in the way of information in the cannabis field. Blue Dream is a popular strain, but some producers may call their plant Blue Dream even if it isn't the same as the original product, Henry says. Knowing more about the flower's chemical expression, and how you react to that mix, helps you as a consumer.
While there are hundreds of terpenes, a few show up more frequently. Generally linalool, also found in lavender, calms you, while limonene, with its citrusy aroma, can give you energy. Keep in mind, compounds may impact people differently. For example, myrcene generally relaxes, but it could do so to a different degree depending on the individual. When it comes to terpenes, and cannabis in general, it's often about finding what works for you.
"It's synergism," says Mark Lewis, founder and president of NaPro Research in California. He compares a single terpene or a single cannabinoid, be that THC or CDB, to a note — but when everything works together, it's a chord.
While terpene levels in cannabis flower tend to be below 2 percent and cannabinoids hover around 20 percent, NaPro tweaks that through breeding plants with desired attributes together over several years. They've amped the terpene level up to 7 percent and THC down to 9 percent in one plant for a client entering a competition that awards top quality cannabis. Changing a plant's composition can take years of breeding. Think about how watermelon today looks and tastes different than it did thousands of years ago, due to human intervention.
Once you get below 1.5 percent, the THC takes over, Lewis, who has a Ph.D. in biochemistry, says. But if a single terpene is higher than 2 percent, the flavor and impact "will hit you like a ton of bricks." One NaPro offering that has 4.5 percent myrcene will cause one's eyes to feel heavy for 15 minutes or so and then provide balanced, euphoric pain relief, Lewis claims.
NaPro Research has also built a search tool for clients to review the chemical expression of marijuana products to discern quality and value.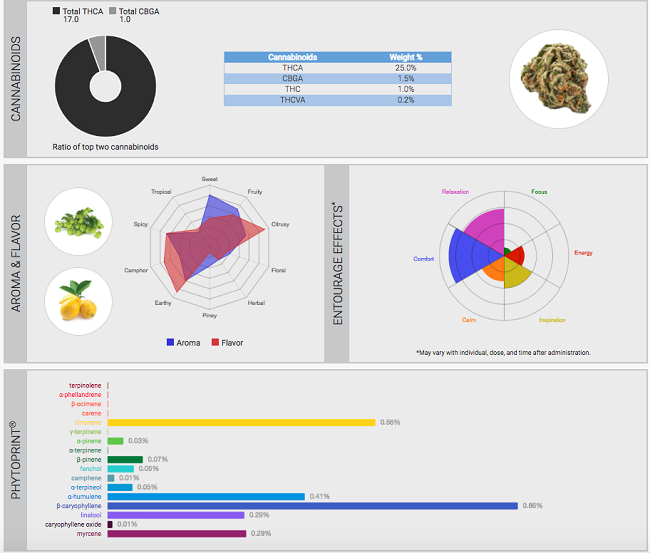 Flowr and NaPro mess around with a plant's terpene profile through breeding, but Yofumo uses a different technique.
Its curing unit is currently only available commercially (the company is working on a consumer model). It releases terpenes from other plants stored in rods into a mahogany chamber, and through atmospheric transfer, the terpenes bind to the plant at a molecular level.
There's a trend in the marijuana space of upping THC content to get super high, but Edwards says cultivators should look beyond THC.
"Instead of just maximizing THC potential, how can we also look at post-harvest curation practices and maximize terpene potential as well?" he questions.
OK, but how did he do that for his flower with hints of chicken and waffles?
He starts with scrutinizing what makes up the flavor of chicken and waffles — the herbs you use, the buttery crunch of the bready exterior, the syrupy sweetness — and then replicates that as best as he can through chemical means.
"Once you understand the creation and how this works, it really does open itself up to you," Edwards says. "I like to refer to it as the Jurassic Park principle."
Edwards has had his share of duds in the past, but those failures have helped fine-tune the curing process.
"I've personally consumed an amount of cannabis that is extraordinarily unpleasant," Edwards says.  "I've had results that are similar to orange dish detergent just as often as I've had them be similar to orange fruit."
Yofumo customers work with flower as well as oil, but it's the expanding vape and oil market that has added an extra boost to terpene's rise. (The strength of terpene's impact in flower versus oil can differ because of a variety of factors, including the types of terpenes used, their source — cannabis or another botanical, synthetic or natural — and the ratio of cannabinoids to terpenes.)
LucidMood adds terpenes from other botanicals to enhance cannabis oil for its vapes.
The Colorado company removes the jargon from the equation, naming vape pens based on the desired effect, including Energy, Calm, and Relief. Each contains roughly 40 percent THC, 40 percent CBD, and 20 percent terpenes. LucidMood is focused on new users, not the seasoned dabber. "It's for the person who doesn't have a Ph.D. in cannabis," Tristan Watkins, LucidMood's chief science officer, quips.
Calm includes geraniol, a terpene that smells like roses. LucidMood names its pens based on focus group studies in which the first group gets pens with terpenes and a second does not. By having a control group, LucidMood can show that terpenes were behind certain biological effects felt by the first group.
"The more that we learn about these, the more we can control," Watkins, who has a Ph.D. in neurology, says.
There is a divide among terpene researchers, though. Purists believe terpenes should come from the cannabis plant, not an additive. There are also those who don't want their marijuana's flavor messed with at all.
"Consumers should be asking for a product that's 100-percent cannabis," Flowr's Henry says. "The ones that are really 100-percent cannabis are going to catch a premium sliver of the market."
As marijuana legalization spreads in the U.S., each state has its own regulations, from who can buy to requiring mold checks. At least two U.S. states, Nevada and New Mexico, mandate terpene testing.
Now, what about weed you eat? If terpenes bring flavor and aroma, are they being used in edibles? Not so much. Edibles tend to use distillates, a form of THC that is supposed to be void of taste, or cannabutter, which is butter infused with cannabis that provides a strong, euphoric high.
Periodic Edibles uses terpenes in their caramels, but for the effect, not the taste.
"We're actually limited on how high we can go with the dosage because of the flavor that they add," says the Oregon company's founder, Wayne Schwind. If Schwind adds limonene to give a burst of energy, he doesn't want the lemon flavor to overwhelm the caramel.
Periodic Edibles started listing terpene profiles on their packaging a few months ago. Schwind says budtenders, the people who sell weed at dispensaries, love it, but buyers are sometimes confused. Many don't know what terpenes are, but that may change over time.
Multiple brewing companies have also been adding cannabis-derived terpenes to their beer. Devour Brewing Co. in Florida uses cannabis terpenes to add lemon, pine, and earthy flavors to its Florida Thunder IPA, and 
Lagunitas
, a California brand owned by Heineken, adds them to its SuperCritical Ale. Prank, a Los Angeles bar, mixes 
terpenes in cocktails
.
The terpene innovators may disagree on what's best, but they concur that discerning customers will be key. Those seeking high-quality products, the craft beer drinkers of weed, if you will, are the target market for terpene experimentation.
"It's not a big thing now, but I think that return to quality is going to explode," says Yofumo founder Alfonso Campalans. "It's really the only way the small and middle producer is going to compete."