Can marijuana be a possible treatment for diabetes? Can marijuana help manage blood sugar and BMI? This post from TheDiabetesCouncil.com covers everything from A to Z.
Marijuana is currently legal for medical use in 28 American states and the District of Columbia. There are increasing evidence to support the claims that the Cannabis plant offers many potential medicinal properties for a wide number of diseases and disorders. Although we know that marijuana can be helpful in treating nervous disorders, little research is available on its other healing properties because of the law against using the herb for medicinal use.
Because of the regulations and the stigma against marijuana, the opinions are biased. But the early research looks promising between the relationship between marijuana and the metabolic processes of the body is still in a relatively new research phase. Of the many research done on various health problems, one of the newest claims is that marijuana can help prevent diabetes, help treat diabetes, and treat certain complications as a result of diabetes. To clear the stigma about marijuana, this article will cover these following topics:
What is Marijuana
Marijuana has numerous of nicknames throughout the years. Amongst all the names, it is most commonly known as weed, pot, ganja, Mary Jane, hemp, and Cannabis. It is actually the female flower buds of the plant Cannabis sativa, Cannabis indica, or a hybrid of both strains (the male flower buds have very minimal psychedelic chemicals if not none). Of the 483 known compounds in the plant, there are 86 canninoid chemicals identified. Of the 86 chemicals, the main psychoactive pharmacological chemical is called tetrahydrocannabinol (THC).
Other cannabinoid chemicals found are cannabidiol (CBD), cannabinol (CBN), cannabaravin (THCV), cannabichromene (CBC), cannabigerol (CBG), and cannbicyclol (CBL). All these cannabinoid chemicals are known to also have psychoactive and pharmacological properties. Because THC and CBD are the chemicals of interest to most marijuana users, the potency of the herb is typically measured in THC and CBD concentrations.
Although these chemicals are found in the whole plant (less than 0.5% for inactive hemp and 2 to 3% for marijuana leaves), the female Cannabis flower bud glands (4 to 20% concentration) is where the chemicals are the strongest and provides the most psychoactive euphoria effect.
Chemicals of Interest
What is interesting about the cannabinoids is that because of their high lipid-soluble ability, they can stay within the body for an extended amount of time. Even though the THC is broken down in the liver into THC-COOH (the chemical urine test detects), the chemical can stay within the body for 4 days for occasional users and 67 days for extreme chronic users.
There are a number of researchers that have suggested that perhaps this special ability allows Cannabis to effectively treat so many health problems because it can readily be absorbed into the lipid membranes of neurons and other body cells.
THC:
Also known as tetrahydrocannabinol, THC is mostly responsible for the marijuana's psychological effects. Because cannabinoid receptors (the CB1 receptors and CB2 cannabinoid receptors) are mostly found in brain regions that are responsible for pleasure, coordination, time perception, memory, and thinking, these regions are activated when THC attaches to the receptors to create the euphoric feeling and the coordination impairment. Some other short-term side effects are hallucination, tachyarrhythmia, anxiety attack, and short-term memory impairment. On the other hand, THC has been shown to increase the dopamine release, and have powerful pain relief and sedation properties. It has also been shown to increase appetite and prevent nausea and vomiting. At the same time, its interaction with CB1 receptors has shown to increase metabolism and promote weight loss.
CBD:
This is the second most common cannabinoid found in many strains of Cannabis. As a matter of fact, there are certain strains of which the concentration of CBD is much higher than THC. In some rare strains, the ratio between the two cannabinoid is so drastic that there is only traces of THC concentration yet the CBD concentration is extremely high. Unlike THC, CBD has very little (if not none) psychoactive effects. The CBD chemical has shown to have anti-psychotic properties which balance out the anxiety and panic attack effects of THC chemical. It has also been demonstrated to improve wakefulness and work together with THC to suppress pain and spasticity in muscle cells. When CBD is taken by itself, CBD has been proven to be anti-epileptic, anti-inflammatory, and anti-anxiety. It can be used as a sedative and contains neuro-protective abilities to protect neurons and brain cells from various damage. Moreover, it also has powerful anti-aging properties for skin cells.
CBN:
The third most common cannabinoid. It is actually a byproduct from the THC chemical breakdown. It has very little psychoactive and medicinal effects. It is commonly found in poorly preserved marijuana that has been kept in hot temperature.
THCA:
Although many articles have stated that THC is the most prevalent chemical found in the Cannabis buds, it actually exist as in the acidic form THC acid (also known as THCA). High heat is needed in order to convert THCA into the psychoactive THC form. Even though it is not psychoactive, THCA has been found to have immune-modulatory properties similar to the other cannabinoids.
THCV:
Also known as tetrahydrocannabivarin. Although it is chemically very similar to THC, THCV is an appetite suppressant and anti-convulsive chemical. Even though it is psychoactive, its effect if more clear-head euphoric effect similar to CBD high ratio strains.
Why Is So Little Known About Marijuana's Benefits?
There has been documented evidence throughout history on the medicinal benefits of Cannabis. Queen Victoria used Cannabis as a pain relief for menstrual cramps; George Washington used it to alleviate toothaches; John. F. Kennedy inhaled Cannabis to relieve back pain; and Chinese medicine has documented using Cannabis to treat various pain problems such as gout and rheumatoid aches as well as a sedation for surgeries (Current Chinese medicine pharmacies still sell a weak hemp drink during summertime to prevent heatstroke and stimulate appetite).
Yet, ever since Cannabis was been banned as an illegal drug in 1938, scientific research ceased in the United States until recent years with the changing regulations towards medicinal usage of Cannabis and research. As a result, many past research have been done on correlation studies based on individuals who have other illegal substance abuse problems or other confounding factors that simply cannot isolate the cause-and-effect findings. Consequently, the results are biased towards the negative effects of Cannabis.
However, with the increasing amount of treatment studies done by hospitals and health science research laboratories all around the world by countries that have legalized marijuana, more and more benefits of the herb has finally come to light.
Type of Marijuana: Sativa, Indica, and Hybrid
You may have heard about Cannabis indica, Cannabis sativa, or Cannabis hybrid on the news and information articles. Even though all these species of Cannabis are counted as marijuana, they differ slightly in several ways. The first being appearance.
The sativa plants tend to have longer, narrow leaves whereas the indica plants tend to have fatter, broader leaves. And because hybrids are a crossbreed between indica and sativa plants, the appearance can vary from strain to strain depending on the genetic makeup.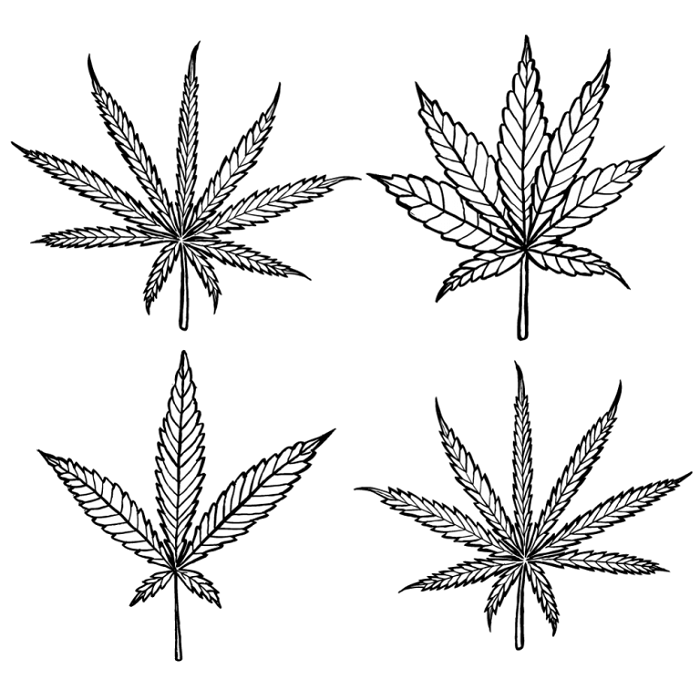 Beside the appearance, indica and sativa plants are commonly believed to have different effects on their user. These effects include:
| INDICA | SATIVA |
| --- | --- |
|  Relaxing, calming, pain numbing | Energizing, uplifting, and thought-inducing |
|  Body buzz similar to consuming alcohol | Hallucinogenic, intellectual stimulating, and lightheadedness |
|  Sleep inducing | Best for day use |
|  Best for night use | |
However, there are actually no scientific studies to confirm these body effect differences and accuracy between the two species of Cannabis. These are solely based on the personal opinion of marijuana users in general. In fact, history suggests a much simpler difference between indica and sativa. According to the original classification, Cannabis indica was named by the biologist Jean-Baptiste Lamarck. He observed that the Cannabis plants from India appear different from the Cannabis plants in Europe. To separate the two species, he labeled Cannabis indica for the Cannabis in India and sativa for the Cannabis in Europe. Although, at one point in history, the indica plants may have a higher THC content and the sativa plant may have a higher CBD content, the mixing of gene pools in the strain breeding process has produced many plants that have varying amounts of both CBD and THC chemicals. In the current Cannabis gene pool, you may find certain sativa strains that are rich in THC and indica strains that have low THC content.
In today's products, indica strains are usually ones that have a high THC to low CBD content ratio, sativa strains are usually plants that have a high CBD content to low THC content ratio, and hybrid strains are usually plants that have a relatively 50:50 ratio of THC to CBD contents. The strains you hear from movies to pop-culture articles are actually just the results from mixed breeding of the two species of Cannabis. Even within a specific strain of Cannabis, you can still find variation of the cannabinoid contents due to the heredity combination as expressed by the female plants.
So how can consumers find the right strain for their needs? To solve that problem, a lot of the products ranging from dried flower to concentrates to edibles will indicate the amount of THC and CBD contents so that consumers can pick out the products that match their needs. For example, an individual can pick a product that is higher in THC for pain relief and sleep apnea purposes, while another individual can opt for a product that is higher in CBD for treating depression. Some people may even choose a hybrid product to help with pain management but still want an uplifting sensation without the sleepy after-effect.
Cannabis and the Endocannabinoid System
One unique factor that separates Cannabis from other illegal drugs is that the human body is equipped with an innate brain system that reacts to the THC and CBD enzymes. This system is called endocannabinoid system (also known as EC system); it is responsible for many body functions which includes cognition, emotions, motor coordination and movements, appetite, and reaction to responses.
And unlike other illegal chemicals that creates active damages to the neural receptors (for example, LSD literally burns a hole in the brain by damaging neurons and brain cells that can be shown in x-rays photos), the cannabinoids are natural and have no physical damage to the human brain and body.
In fact, human breast milk naturally contains many of the same cannabinoids found in Cannabis. These chemicals are actually extremely crucial for development such as induce nutrition intake, stimulate brain cell formation, and protect body cells from harmful bacteria, virus, and even cancer formation.
Importance of Cannabidiol (CBD)
In the past, the THC cannabinoid enzyme has been the focused in many health studies concerning marijuana. Although THC is known to have some healing properties, recent studies have shown that it is the cannabidiol enzyme (CBD) and its precursor enzyme CBDa (CBD exists as CBDa before the heating or extraction process) that carries much more medicinal value for many diseases ranging from psychological disorders, neuroprotective effects, rejuvenating properties, to anti-cancer healing abilities.
Can Cannabis Help Manage Diabetes?
Direct Benefits for Type 2 Diabetic Patients
Cannabis is very well known for the unstoppable 'Munchies' urge it induces. Most people would think that an increased caloric intake would result in a higher BMI. It would also be logical to assume that marijuana users tend to be overweight and prone to diabetes. Surprisingly, these two assumptions do not seem to apply to marijuana users.
In order to determine whether or not the assumptions stand, an early medical correlation study was conducted to examine the effects of Cannabis use on blood glucose level and insulin level. In the study, 579 subjects out of 4657 total participants were marijuana users. These 579 participants showed a lower tendency to have diabetes than non-marijuana users.
What is even more intriguing is that the Cannabis users exhibit 16 % lower levels of fasting insulin and 17 % lower insulin resistance than subjects who do not use Cannabis. The marijuana users were also found to have lower waist circumference and higher levels of high-density lipoprotein cholesterol (commonly named as the "good cholesterol"). This discovery answers how exactly Cannabis can benefit type 2 diabetic and pre-diabetic individuals.
For individuals who suffer from obesity and type 2 diabetes, endocannabinoid imbalance may be one of the reason why certain people have a hard time losing weight. It has been found that the endocannabinoid system has a role in regulating energy homeostasis especially in the intra-abdominal adipose tissue. When the endocannabinoid system is over-regulated, it may lead to excessive visceral fat accumulation in the stomach area and reduced adiponectin release from the tissue. Adiponectin is a protein that is responsible for regulating glucose levels and fatty acid breakdown. The decreasing amount of adiponectin in the body can lead to insulin insensitivity and increases the chance of developing type 2 diabetes. This chain reaction can turn into a vicious cycle of insulin resistance, further endocannabinoid system activation, greater increase in appetite and food-seeking behavior, and additional body weight and fat gain.
Unlike THC that creates the munchies effect, CBD can help to suppress appetite and help individuals to re-balance the endocannabinoid system by increasing the fat breakdown, increase the mitochondria activities and promote metabolism, and decrease fat storage. In a way, CBD changes the white-colored fat storage cells to beige-colored fat cells for energy making. So not only is the fat much easier to be burned off, the beige-colored fat cells also improve glucose tolerance by decreasing insulin resistance in the muscle and liver cells. Although it may not completely treat diabetes, CBD can alleviate the condition so that diabetic individuals can suffer from less blood glucose fluctuation and manage their blood glucose level with less medication.
Another factor that CBD is a suitable treatment option for type 2 diabetes is that insulin resistance is a great contribution to the disease. The anti-inflammatory ability can improve the body's sugar metabolism, suppress the short inflammation reaction to sugar ingestion, and provide many other health benefits to prevent complications that result from type 2 diabetes.
Aside from CBD, THCV can also be a weight loss aide for type 2 diabetes individuals who are obese and need to lose weight to better control their blood glucose level and prevent complications from arising.
Direct Benefits for Type 1 Diabetic Patients
The researchers demonstrated the potential of (CBD) to reduce the occurrence and delay the onset of Type 1 diabetes. It was found that CBD exhibits anti-autoimmune abilities. Even though some non-specific immunosuppression medication have shown to be successful in preventing diabetes, they are not an ideal alternative. Suppressing the immune system in a general fashion for an extended amount of time would present a dangerous treatment. Moreover, these drugs indicated to be working only temporarily in the clinic until resistance was acquired. The marijuana and diabetes research is a lot more promising. In fact, clinical studies have shown that CBD can save insulin-forming cells from damage so that normal glucose metabolism can occur. At the moment, scientists have successfully use CBD to reverse the auto-immune disease in mice that suffer from early stage of type 1 diabetes. They are in test trials to transfer this knowledge into treatments for human patients so that CBD can be a cure for type 1 diabetes.
Although Cannabis cannot cure type 1 diabetes currently, the THC enzyme can suppress the autoimmune attacks so that less insulin is needed to lower the blood glucose levels. At the same time, CBD has found to reduce the inflammation of pancreatic cells and THCV has shown to improve glucose tolerance and increase insulin sensitivity for type 1 diabetic individuals so that there is a possibility that less insulin is needed for the management and the fluctuation of the blood glucose level is more manageable. To confirm these findings, another research was conducted in 2012 where obese rats lost significant weight and experienced an increase in pancreas weight after exposure to organic Cannabis extract. The increase in the weight of the pancreas indicates that the insulin production pancreatic cells (known as beta cells) are protected by the presence of cannabinoids in type 1 diabetes.
For many type 1 diabetes patient, stress and anxiety are a common problem that can aggravate the blood glucose level fluctuation. CBD and THC can help make stress much more manageable while boost the overall energy level.
Direct Benefits for Pre-diabetic Patients
In general, many prediabetic patients have similar problem as type 2 diabetic individuals; they are very likely to suffer from obesity, poor eating habits, and lack of exercise. Diabetes is associated with high levels of fasting insulin and insulin resistance and a low level of high-density lipoprotein cholesterol. A 5-year studies that include 4,657 participants have found that regular Cannabis users have 16% lower fasting insulin levels than individuals who have never used Cannabis. The Cannabis users also have 17% lower levels of insulin resistance and higher levels of high-density lipoprotein cholesterol. These at-risk individuals may benefit from the health benefits offered by Cannabis products. Many research studies have found that the average regular Cannabis users tend to have a lower body mass index (BMI) than non-Cannabis users. They also have a smaller waist circumference than non-Cannabis users. At the same time, they have lesser chance of developing type 2 diabetes than those who do not use Cannabis. This study suggests that Cannabis can not only help control diabetes but also prevent the onset of diabetes.
Read full article here: Diabetes and Marijuana: A Possible Treatment?