Doctors worldwide are now giving medical cannabis the attention it deserves. This post from Natural Blaze discusses the growing acceptance of cannabis oil in healthcare circles.
Grand Cayman's CTMH Doctors Hospital and Cayman Pharmacy Group has started dispensing cannabis oil to patients with a valid medical documentation. To meet expected demand, CTMH purchased nearly 13 liters of cannabis oil from Canadian-based CanniMed® Oils. Doctors at the hospital can now prescribe it to selected patients who reside in the Cayman Islands.
The hospital officials stated:
These advancements in medicinal cannabis have been proven successful in multiple case studies around the world. These case studies reveal life changing results for patients suffering with many conditions such as chronic pain, neuropathic pain and seizures. As with all medications, care and caution must be exercised to minimise risks and maximise health benefits.
Success stories about using cannabis oil to treat illness continue to surface, and the medical establishment is listening. People have reportedly used cannabis oil to treat, and in some cases heal, brain tumors, leukemia, skin cancer, Type 2 diabetes, thyroid disease, and epilepsy. As a result, the medicinal value of cannabis is finally being reconsidered globally.
Growing Acceptance of Cannabis Oil
In addition to the Cayman Islands, doctors in other parts of the world are giving medicinal cannabis the attention it deserves. For the first time ever, the National Health Service in Northern Ireland has prescribed medicinal cannabis oil, reported BelfastLive. The recipient is Billy Caldwell, an 11-year-old Irish boy.
Billy started his cannabis oil treatment in the U.S., under the care of Dr. Douglas Nordli. Nordli is the director of pediatric neurology at the Children's Hospital Los Angeles in California, where medical cannabis is legal. The goal was to reduce the frequency and severity of Billy's seizures.
Billy's mother, Charlotte, claims that cannabis oil reduced the boy's seizures from nine a week to only about four per month. Unfortunately, Billy was receiving cannabis oil containing THC, the psychoactive component in cannabis, which is illegal in Ireland.
Consequently, Dr. Brendan O'Hare in Ireland agreed to take over Dr. Nordli's treatment. O-Hare chose to prescribe CBD oil, without the psychoactive THC. Thus, the family can continue the boy's medication without needing to travel back to the U.S. Dublin-based pharmaceutical start-up GreenLight Medicines supplies Billy's new CBD oil medication.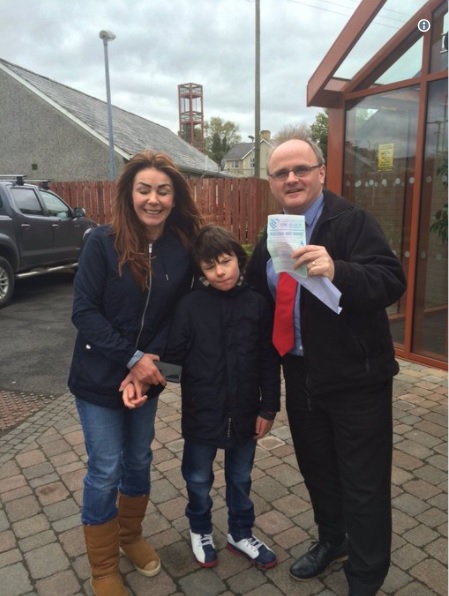 Legal Landscape in the U.S.
As of early 2017, medical cannabis is legal in 28 U.S. states. More states, such as Vermont for example, are likely to legalize cannabis very soon.
Many U.S. doctors prescribe cannabis oil to patients, just like Dr. Nordli. Particularly in states such as California, Colorado and Washington, a growing number of medical professionals accept medical cannabis as a viable treatment for ailments such as pain and seizures. Pain management, for example, is a perfect contender for cannabis treatment because pharmaceuticals are quite addictive and out-right dangerous.
Regardless, it appears that the U.S. Drug Enforcement Agency (DEA) continue to overlook medical fact. The agency rules that even the non-psychoactive compounds found in the cannabis plant should be illegal. In December 2016, the agency amendment the DEA Federal Registry to create a new code for "marijuana extracts." The Agency wants to reclassify cannabis oil so it's on par with THC-containing cannabis, heroin, LSD and peyote.
Although federal laws continue to disregard mounting medical research on the benefits of cannabis, many doctors do not. Hence, we can expect more hospitals to start dispensing cannabis oil and other cannabis-based medications in the near future.
Source: Hospitals Begin Dispensing Medical Cannabis Oil To Patients