In Wisconsin, where the state-level wasn't ready to embrace change, individual cities have gone ahead on their own to decriminalize marijuana possession. This post from NORML shows how the scales just keep tipping in the direction of a new relationship with the cannabis plant for Wisconsin.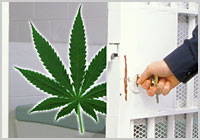 Nine of the state's ten largest cities impose local ordinances decriminalizing minor marijuana possession offenses, according to review published this week by Gannett Central Wisconsin Media.
Local lawmakers in Madison enacted the state's first local decriminalization law in 1977. The ordinance imposes a maximum fine-only penalty of $100 for those found in the possession of up to 28 grams of cannabis. Most recently, lawmakers in Stevens Point amended local law to define violations involving the possession of up to five grams of marijuana as offenses punishable by no more than a $100 fine.
Additional cities in the state that have adopted municipal decriminalization ordinances include Appleton, Eau Claire, Green Bay, Kenosha, La Crosse, Marshfield, Milwaukee, Racine, Waukesha, and Wausau. Milwaukee imposes the smallest fine ($50.00) for marijuana violations while Green Bay imposes the highest ($1000 maximum fines). Most citywide ordinances do not impose criminal sanctions unless the quantity of cannabis possessed exceeds 25 grams.
By contrast, state law classifies the possession of any amount of marijuana as a criminal misdemeanor punishable by up to six-months in jail and a $1,000 fine. Subsequent offenses are classified as felonies punishable by over three years imprisonment and a $10,000 fine.
Legislation seeking to decriminalize marijuana possession offenses statewide is pending in both the Assembly and the Senate but neither bill has yet been scheduled for committee hearings or a vote.
Source: Wisconsin: Nine Of Ten Largest Cities Have Decriminalized Marijuana Possession