The number of hemp products that are being produced and will, very soon, be placed on the market, is somewhat unbelievable.
Back in 1938—a year after hemp was banned from the U.S. with the Marijuana Tax Act of 1937—the Popular Mechanics Magazine wrote about the potential of hemp, referring to it as the new billion dollar crop that could add immeasurably to the American agriculture industry. Unfortunately, their vision hasn't realized. [1]
But there is hope. More than eighty years later, hemp production in the U.S. is making a grand return, and it is predicted to benefit consumers, manufacturers, and the U.S. economy.
This is because the Farm Bill 2018 was passed with a Hemp Act end of last year, making hemp fully legal for commercial cultivation and consumption again. Manufacturers across the country are getting ready to place their organic, healthy hemp products on the market.
This also bodes well for consumers wanting to switch to organic replacements of almost any day-to-day product.
From food and drinks to beauty products, here is a list of hemp products expected to hit the market in 2019.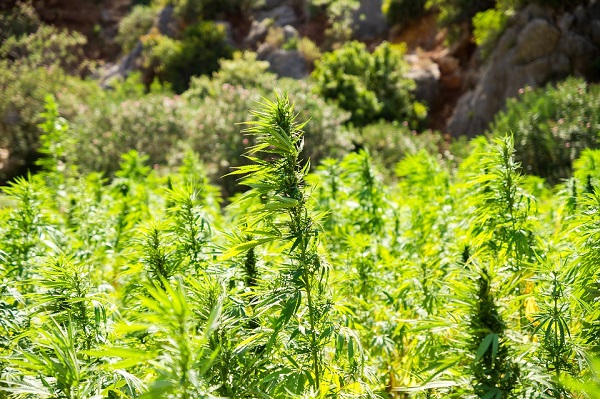 RELATED: What is hemp oil
Hemp Food Products—Hemp Seeds
Hemp seed is slowly gaining in popularity, after having being used mostly by athletes and people leading a healthy lifestyle. This is unsurprising since hemp seed is one of the world's greatest nutritional resources.
According to one study investigating the nutritional value of hemp seeds, they contain up to 25 percent proteins (amino acids), and dietary fibers, vitamins, and minerals.
The seeds are furthermore rich in essential fatty acids, which are strongly linked to a number of health benefits. In fact, the seed contains a ratio of omega-3 and omega-6 which is optimal for human health—2:1 and 3:1. [2]
Regarding its cannabidiol (CBD) and tetrahydrocannabinol (THC) content, hemp seed has only insignificant amounts. (These are healthful chemical compounds found in other parts of the hemp plant.) The THC in hemp seed is much too low in quantity to cause any psychotropic effect, or the "high" marijuana is known for.
Often compared to flax and chia seeds—also highly nutritious—it is clear that hemp seed offers great health benefits, and should not be overlooked as a great source of nutrition.
There are many ways to use hemp seed in your everyday diet. For example, sprinkle a tablespoon over salads, or add them to your oats or yogurt, in combination with other nuts and fruits. [3]
Or you can opt to get in the same nutrients via hemp seed oil.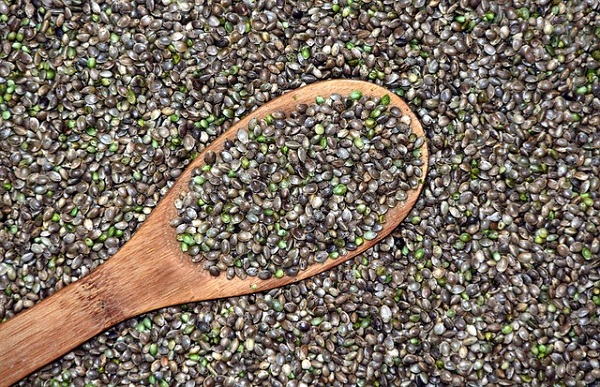 Hemp Seed Oil
Hemp seed oil, also known as hemp oil, is extracted from hemp seeds and is rich in over 80% of polyunsaturated fatty acids.
Hemp oil has been used significantly in the past, until getting replaced by linseed in the 1930s. This happened because all varieties of cannabis were then prohibited for use in the U.S. [2]
Like the seeds, hemp oil doesn't contain much cannabinoids, including CBD and THC.
Hemp seed oil can be used in salad dressing or as a bread dip, tasty together with balsamic vinegar.
Beware of using too much, though, as it has a pretty strong, earthy flavor that can easily overpower other flavors in food.
RELATED: Industrial Hemp Legalized in Farm Bill 2018
Hemp-derived CBD Extract
Hemp is also the source of another, miraculous chemical—cannabidiol (CBD). This is the only hemp product for pain and one of the most popular natural remedies for people dealing with this and other ailments.
The best way to dose CBD oil is to start low and slowly increase intake over time.
As the non-psychotropic cannabinoid in hemp, CBD doesn't interfere with your psychological or psychomotor functions, but there is substantial evidence that it is helpful in various medical applications.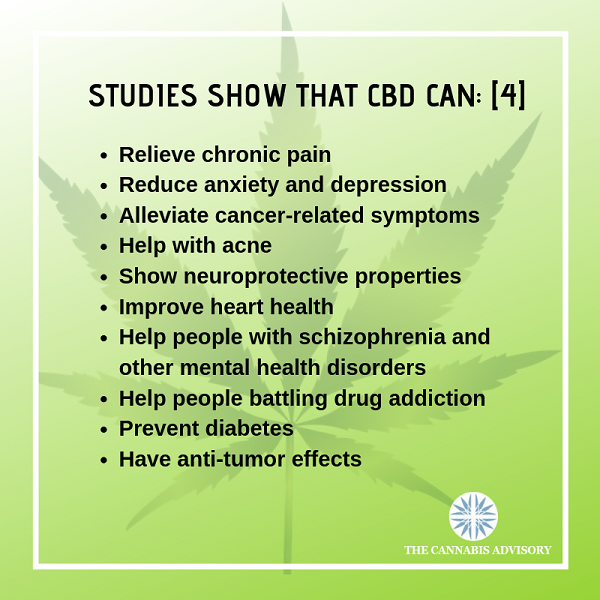 Hemp Tea
Hemp tea is another way to ingest and enjoy the benefits of hemp if you are not into hemp oil or hemp seeds.
A cup of warm (or cold), tasty pleasure can be combined with other hemp edibles for better effect, and is a great way to jumpstart your day.
Hemp tea is prepared from the leaves of the plant and it can be purchased or prepared at home.
As described by consumers, the tea has a typical, herbal smell that resembles hay. It presents with a brownish color and has a delightful taste. Hemp tea can be consumed as is, or taken with milk or a dash of lemon juice.
Flavored Hemp Water and Other Beverages
Aside from hemp tea, there is also flavored hemp water with the same health benefits of all the other hemp foods.
Hemp beer and other alcoholic drinks are also growing in popularity. If you are into brown beer, you'll love the way it tastes with toasted hemp seeds.
RELATED: Is CBD Really Legal in the U.S.? A Comprehensive List of CBD Oil State Laws
Hemp Coffee
For avid coffee lovers who want to experience the benefits of hemp in an enjoyable way, there is good news.
Hemp coffee is another fantastic product expected to hit the market soon. This way, you can enjoy your daily dose of nutritional supplements first thing in the morning.
Hemp coffee is a blend of roasted coffee beans and hemp nuts.
And the taste? Well, let's say you will probably not have to add any sweetener because you will get a smooth coffee flavor with a sweet nutty aftertaste.
When choosing this product, it is important to buy organically roasted coffee beans. Add "fair trade" to this and you have a product that not only tastes great and is good for you, but also supports a sustainable market.
Get your energy kick without those annoying jitters by replacing them with a healthy alternative.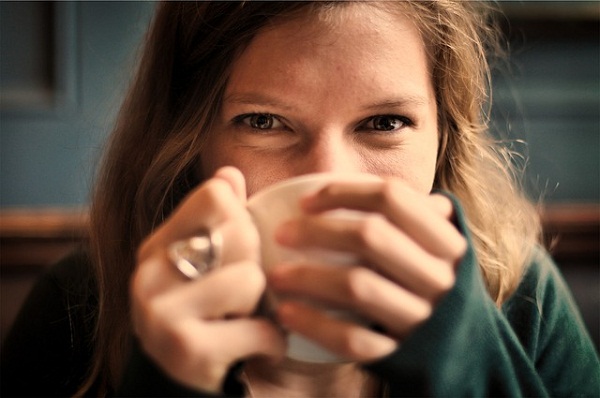 Hemp Clothing and Accessories
From shirts and dresses to jeans, jackets, shoes, yoga pants, and even sunglasses and wallets—you name it—everything can be made with hemp and hemp fiber.
Hemp fiber is here to dress us from top to bottom while making us look stylish and super unique with elegant accessories like handkerchiefs, scars, and hats.
Aside from looking artsy, yet stylish, hemp clothing benefits your skin. A study that examined the potential of hemp fiber concluded that the fiber had "excellent moisture absorption and air permeability performance, unmatched by other textiles."
This means that clothing made of hemp can keep you cool and your skin aired while absorbing moisture such as sweat. It is furthermore also extremely durable. [5]
RELATED: The Marijuana Plant | Anatomy & Uses
Hemp Beauty Products
Several studies have proven the benefits of hemp oil for the skin. The oil offers a variety of skin care benefits, including: [6]
Moisturizing without clogging the pores.
Soothing inflammation.
Soothing atopic dermatitis.
Reducing fine lines and wrinkles.
All of these skin benefits are due to the high amounts of omega fatty acids, vitamins, amino acids, minerals and other ingredients naturally found in hemp.
Hemp skin products such as body lotions, lip balms, facial creams, cleansers, sunscreens, as well as hemp hair products such as shampoos and conditioners, are generally not harmful. In fact, they are quite beneficial, especially when compared to regular, chemical-filled hair products!
However, if you are prescribed medication for any skin condition and want to experiment with natural products, best let your doctor know. They are likely to support your decision.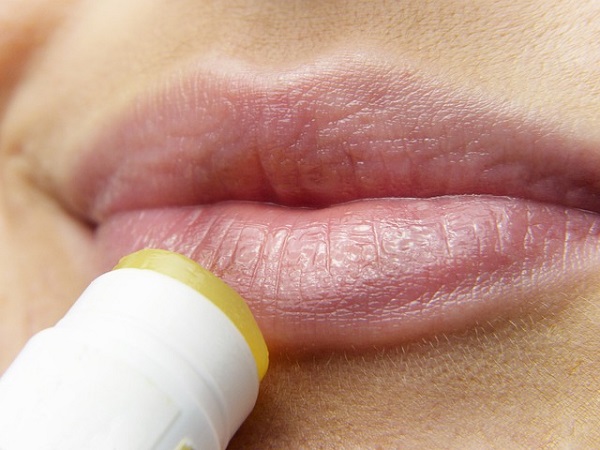 Hemp Pet Products
Just as we want the best for ourselves, we also want it for our furry friends. Hemp animal bedding, dog collars, and toys are the durable, quality products you and your pet have yet to discover.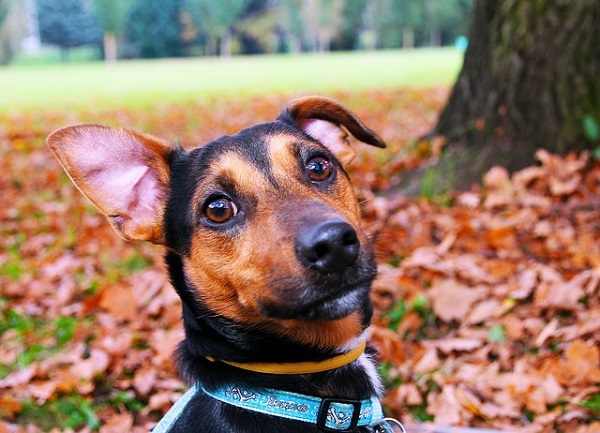 Hemp Products for Home and Office
For those who sweat a lot at night, hemp linen is a perfect choice because of its absorption abilities. Hemp blankets, as well as sheets and towels, are also ideal for persons with sensitive, allergy-prone skin.
Speaking of which—non-toxic and hypoallergenic hemp detergents are a must-try too.
If you want to stack your home office with some sustainable pens and paper, you know where to look.
Other Uses of Hemp
Yes, unbelievably, there are more uses.
Hemp is also used in the automobile industry for both building cars and manufacturing fuel.
Hemp is furthermore used to make rope, plastic, hempcrete (ideal for building homes, as it serves as an amazing thermodynamic insulator), batteries, and growing mats.
With so many applications, this crop could very well help the U.S. to rebuild its economy. Consumers are also increasingly looking for sustainability, eco-friendliness and healthy, with good reason. It is about time to use the power of nature and reconnect to our roots. We can start with hemp products.
Sources: