Marijuana is known under various street names, including weed, herb, grass, pot, ganja, Mary Jane, and many other slang names. Regardless of how it is referred to, marijuana is a greenish-gray mixture produced from the dried flowers of the marijuana plant. Hemp, and Cannabis Sativa and Cannabis Indica are strains of the same cannabis family. Marijuana is a cannabis varietal that is clustered more under Cannabis Sativa than Cannabis Indica.
The Marijuana Plant and Marijuana Products
Cannabis is a special plant. It is usually dioecious, meaning that the male and female reproductive organs are on two separate plants, till the female plant is fertilized. Then it becomes hermaphroditic.
Mainly the unfertilized female plant is used for marijuana. This marijuana plant contains numerous chemical compounds, some of which are called cannabinoids. These include cannabidiol (CBD) and delta-9-tetrahydrocannabinol (THC).
The discovery of the plant's cannabinoid compounds eventually led to the discovery of the endocannabinoid system. This system controls homeostasis in the body and plays a role in other important functions.
The difference between marijuana, hemp and cannabis products is that marijuana products are made from the dry leaves and flowers of the unfertilized female cannabis plant. This is also referred to as sinsemilla cannabis—when it has never received the pollen of a male cannabis plant. The flowers and stem of sinsemilla cannabis, or a marijuana plant, are high in THC content.
Marijuana can be smoked as joints (hand-rolled cigarettes), in all types of pipes, such as water pipes (bongs), or blunts (rolled in a cigar wrap). This green, gray or brown mixture of dried, crumbled parts from the marijuana plant can also be mixed into edibles such as cookies and brownies, or used to brew tea. A common way to smoke marijuana oil is with vaporizers.
Concentrated resins that contain high doses of the active ingredients of marijuana are honey-like hash oil, amberlike shatter, and waxy budder. These resins are popular among both recreational and medical users of marijuana. Another stronger form of marijuana is sinsemilla. [1]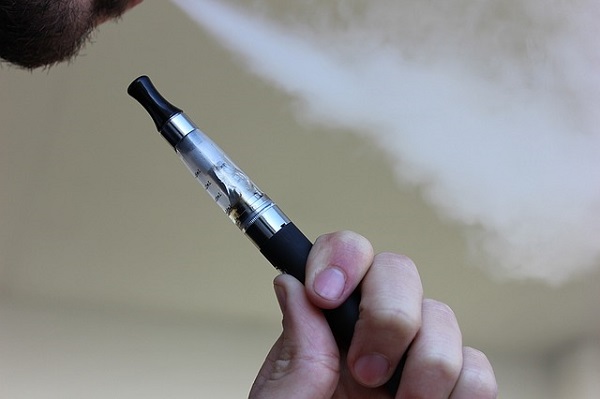 RELATED: How To Make Edibles & Cannabutter With Only 2 Grams Of Weed
Anatomy and Appearance of The Marijuana Plant
Marijuana plants have long, skinny stems and the large, iconic fan leaves have a pale-green color. The leaves extend out from areas called nodes. The buds, also called colas or terminal buds, grow tightly together, with smaller colas distributed along the lower branches, and a main cola at the top of the stem. The crystal resin coating the cannabis plant contain trichomes, which contain cannabinoids and other chemical compounds called terpenes. The female flower, with the highest THC content, is called the calyx.
THC and CBD are the two most well-researched cannabinoids in cannabis, and occur in the highest quantities, compared to other cannabinoids. As mentioned, the marijuana plant has higher THC content, which is why users prefer it, especially for recreational purposes. THC is the compound known for its psychotropic effects, or the euphoria associated with marijuana use.
Cannabidiol (CBD) is the non-psychotropic ingredient that is known, and widely used for its medicinal benefits.
Terpenes are the aromatic compounds commonly found in the flower oil of all plants, including cannabis. Terpenes have independent medical potential and work together with cannabinoids.
Research seems to suggest that the most powerful properties of the marijuana plant are unlocked through the 'entourage effect,' when the compounds present in cannabis work in synergy. [2]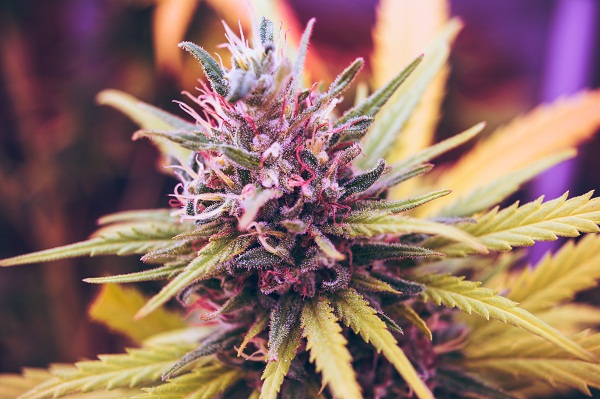 RELATED: Entourage Effect Now Proven by A New Research
Types of Cannabis Strains
As mentioned, the cannabis plant has two main strains, Cannabis Indica and Cannabis Sativa. The third cannabis variety that usually doesn't get much recognition is Cannabis ruderalis. These two are differentiated by their physical characteristics. Sativa strains have long and thin leaves that are lighter in color. Sativa buds are long and wispy, with red or orange coloring and, usually contain high THC and low CBD levels.
Indica strains present with wide, broad leaves that are deep green in color. Indica buds are dense and tightly packed with purple coloring. It contains medium levels of THC and a higher amount of CBD.
The ruderalis variety comes from Russia and is a small plant that grows up to one foot in height. Cannabis ruderalis is low in THC but high in CBD and is rarely used. [4]
Hybrid strains of cannabis often bring together the best qualities of the combined strains. However, a recent study showed that the strains don't play a role in the quality of the THC and CBD content a person is getting when using a certain marijuana strain. [3]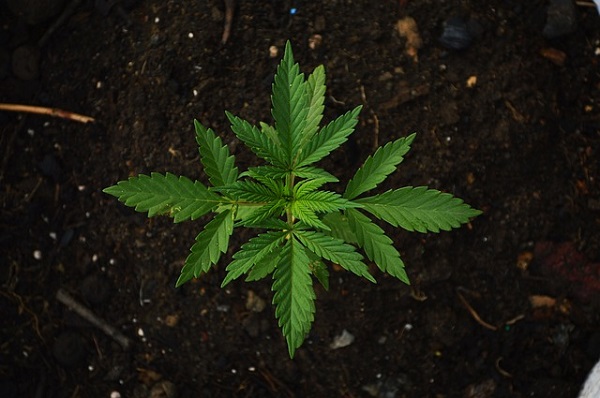 The Lifecycle of a Cannabis Plant
Here is what the entire life cycle of the marijuana plant looks like: [4]
Germination (total time 12 hours to 9 days)
Darkness, plus absorbing enough water initiate metabolic processes during the germination of cannabis seeds. Seeds ready for germination are dark brown, dry, and hard. Initial germination of seed might take between 12 hours to nine days and occurs when the seed is in its optimal environment and has enough warmth and moisture.
RELATED: Can Terpenes Take Cannabis Innovation to The Next Level?
Seedling (total time: 1-4 weeks)
The marijuana plant needs maximum light and appropriate water levels during this stage. Seed leaves, also known as cotyledons, and other leaves start to grow at this stage.
Vegetative (total time: 1-2 months)
During the vegetative stage, the plant exhibits the greatest increase in biomass and growth. The marijuana plant needs dry air, fresh warm water, and nutrients during this stage. During the vegetative state, the sex of the plant cannot be entirely determined. However, female plants tend to show a shorter and branchier structure, with more leaves at the top.
Pre-Flowering (transitional stage; total time: 10-14 days)
Although this is a brief period, the marijuana plant can sometimes double in growth in an extremely short time. That is why this phase is also known as "the stretch." During the pre-flowering period, the plant increases its nutrient intake dramatically and starts to produce more nodes—the intersection of branches and stems. In the nodes, the cannabis plant produces calyxes—tiny buds that form male or female flowers.
Flowering (total time: 6-22 weeks)
This stage can last anywhere from 6 to 22 weeks. During the flowering stage, the plant starts to fill-out and produce flowers, showing its sex within the first two weeks of the flowering process. Before the flowering stage, it can be hard to determine which plant is male and which is female. The male calyxes form clusters of pollen sacks, while the female calyxes extend a pair of white hairs.
Seed Production
During this stage, the male pollen sacks open up and release their white, powdery pollen that can be carried out even by one air current to the female flowers. Once it gets there, a seed forms inside the pollinated female calyx.
Chemical Makeup of The Marijuana Plant
Cannabis sativa contains more than 400 chemical entities of which more than 100 are cannabinoid compounds.THC is mostly derived from the leaves and buds, primarily from the female plant. [5]
THC and CBD are fundamentally different in the way they manifest their psychological effects on the body. THC classifies as a psychotropic compound, while CBD is widely known as the compound that doesn't elicit a high. Both have many healthful properties.
CBD was first isolated in 1965, THC in the 1960s, while its psychotropic effects came to light in 1965, when Raphael Mechoulam, an Israeli scientist, isolated and synthesized the molecule. It is interesting that CBD and THC share lots of similarities, such as their molecular formula and molecular mass, but they have very different effects on the brain.
RELATED: Clearing the Air on CBD Benefits and The Best Ways to Use It
Marijuana's Legal Status
According to the FDA, marijuana is not approved as a safe and effective drug for any indication. So far, the agency has approved one epilepsy medicine that is cannabidiol or CBD based, which stops seizures in people with intractable epilepsy.
Although marijuana is not legal on the federal level, "the FDA understands that caregivers and patients are looking for treatment options for unmet medical needs. In some instances, patients or their caregivers are turning to marijuana in an attempt to treat conditions such as seizures and chemotherapy-induced nausea."
There is a collision between state regulation on marijuana and federal regulation. At the time of writing, 33 states have legalized medical marijuana, while ten states and Washington D.C. have legalized marijuana for recreational use. [6]
The marijuana plant is gradually being put on a pedestal again after millennia of use by our ancestors. The endocannabinoid research has been one of the fastest growing fields in psychopharmacology. Multiple research studies are opening ways of using this ancient plant to discover remedies for various health problems.
Sources:
[1] https://www.drugabuse.gov/publications/research-reports/marijuana/what-marijuana
[2] https://www.ncbi.nlm.nih.gov/pmc/articles/PMC3165946/
[3] https://www.nature.com/articles/s41598-018-31120-2
[4] https://erowid.org/plants/cannabis/cannabis_cultivation17_ultimate.pdf [Under: VARIETIES; Under: SIX BASIC STAGES IN CANNABIS LIFE-CYCLE]
[5] https://www.ncbi.nlm.nih.gov/pmc/articles/PMC3736954/
[6] https://www.businessinsider.com/where-can-you-can-legally-smoke-weed-2018-1