Have you ever tried cannabis for depression? Here's what you need to know about using cannabis for depression and tips for choosing the best strains. Learn more with information from Green Flower.
Here's a depressing statistic: nearly 350 million people worldwide suffer from depression.
Roughly half of these people are also being diagnosed with anxiety.
All human beings feel sadness, worry, and stress, and at some point in life most of us feel a 'case of the blues'.
However chronic depression goes beyond a momentary lapse of well-being.
Challenges with depression and anxiety can be compounded by the fact that there is no outward physical sign; rather it's an internal struggle. It can be described as feeling trapped within one's own body.
Along with halting normal activities and participation in life, depression and anxiety can cause physical pain, sleep changes, anger, appetite and weight changes, loss of energy, and more.
As a holistic nutritionist and avid believer in the power of nature, I can tell you one herb, in particular, cannabis, can help with all of these things.
Studies have shown that cannabis may be used as a natural alternative or to augment the most popular depression and anti-anxiety medications.
Plus, there are ways you can use cannabis without even getting high if you need to avoid that.
Let's take a look at WHY cannabis is such an effective solution.
Understanding How Cannabis Impacts Depression & Anxiety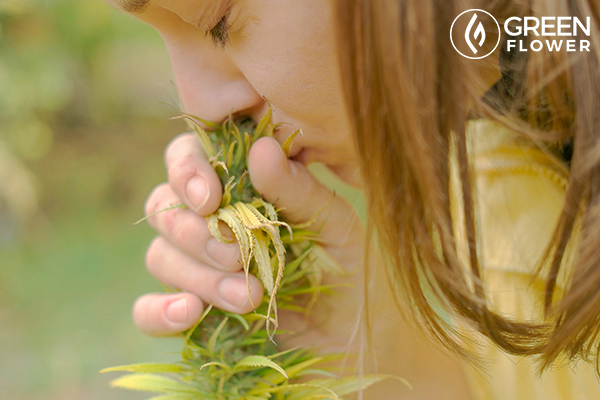 Here's the big question:
Is it possible to hack your mental state naturally with cannabis? If so, how does that work exactly?
The direct link between cannabis, depression, and anxiety lies within our Endocannabinoid System. Believe it or not, we are still discovering how the human body works.
In the late 1980s it was first discovered that each human being is born already wired with an Endocannabinoid System (ECS). So what does the ECS actually do?
The ECS, among other things, helps to regulate metabolic processes such as:
Appetite
Mood
Inflammation
Immunity
Stress
Sleep
Pain
And much more!
Basically, all things negatively affected by depression and anxiety.
Essentially, this system produces chemicals called endocannabinoids, which bind to specific receptors throughout our body to create and maintain a happy healthy human.
The compounds in cannabis just happen to mimic endocannabinoids, working directly and indirectly on our ECS.
So, whenever the ECS isn't functioning properly, any number of things can go wrong with your health.
Cannabis can be used as a supplement to help restore balance.
What Are the Best Cannabis Strains for Depression?
Research has unveiled that the primary psychoactive in the plant, tetrahydrocannabinol (THC), has biphasic effects. That means that high doses of the herb can actually have the opposite effect than moderate doses.
Large doses of THC may contribute to worsening depression in some people, while sticking to lower doses may prove beneficial.
Still, the dosage is only one factor to consider when trying to find the best cannabis strains for depression.
You also want to consider the cannabinoid and terpene profiles of a given cannabis sample for best results.
To help give you a clearer idea, here are five cannabis strains that may help depression, with some helpful tips at the end.
1. Super Sour Diesel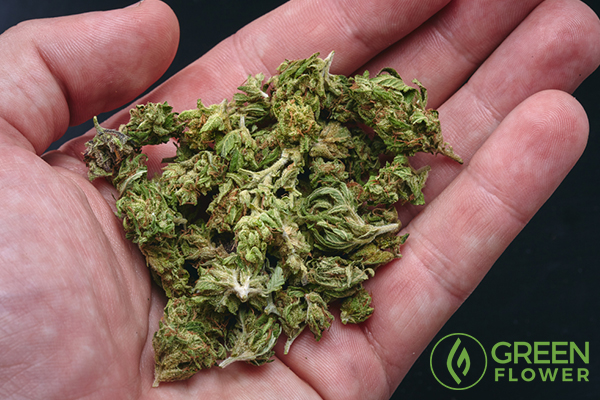 Searching for a quick pick-me-up? Super Sour Diesel is a popular morning time strain for a reason. Energizing and stimulating, this plant is known to produce high levels of uplifting terpenes.
Terpenes are aroma molecules in the cannabis plant that contribute to each strain's individual effects.
This particular strain is known to produce high levels of several mood-lifting terpenes, including beta-caryophyllene, limonene, and bisabolol.
The downside to this strain? Super Sour Diesel can be very high in THC. As such, moderation is recommended for this plant. Too much THC too quickly can worsen depression, especially after the euphoric effects of the plant wear off.
While some people find ample relief with THC, others report that it can make things worse over time.
To find the best strain for you, some experimentation is required.
2. OG Kush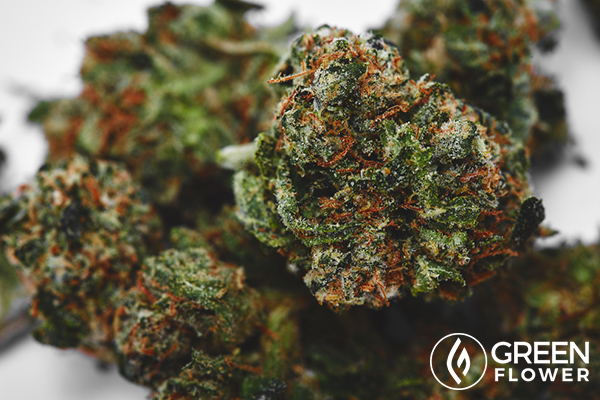 Considered an afternoon treat, the OG Kush cannabis strain is a high-THC flower with a unique terpene profile.
Containing high levels of myrcene, BCP, limonene, and linalool, OG Kush offers consumers an easygoing and upbeat experience. Laid back terpenes like limonene and floral linalool are thought to offer mood-boosting effects, while musky myrcene acts as a hypnotic and sedative.
Altogether, these terpenes make OG Kush a mildly sedative yet emotionally upbeat flower that may be helpful to those who struggle to relax and enjoy the company of others.
Unfortunately, like Super Sour Diesel, the high THC content of this strain may not have positive effects in every consumer. Some may find that the THC in OG Kush makes depression temporarily worse as the effects of the strain dissipate.
Others, however, may find that the euphoric properties of this herb inspire an uplifted and silly sense of wellbeing that makes it easier to find joy in daily activities.
3.  Classic Cookies
Another high-THC strain, Classic Cookies is a mellow and relaxing daytime flower. This contended hybrid plant is safe to consume during the day, so long as the consumer has a high tolerance for THC.
Easy going and uplifting, the Classic Cookies strain contains impressive levels of limonene, which is invigorating and calming at the same time. The relaxed nature of this terpene is expected to promote a positive mood and mental clarity without causing excess stimulation.
An excellent choice for those seeking relief from depression, this plant also contains high levels of beta-caryophyllene and decent levels of calming linalool.
4. MediHaze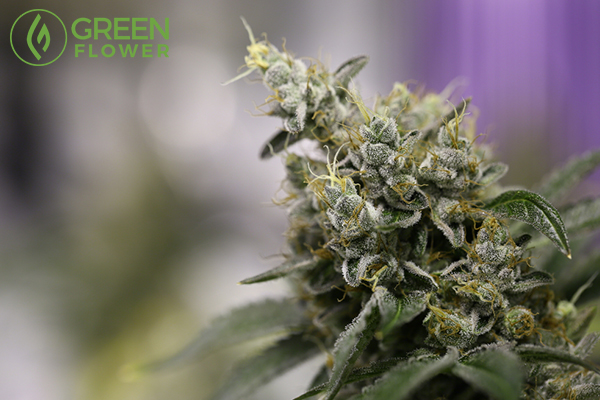 MediHaze is a CBD-rich strain that is often considered a sativa hybrid.
Often expressing a 1:1 or greater ratio of CBD to THC, this flower is an excellent choice for those searching for cannabis relief without the intoxicating effects of THC. While the anti-depressant effects of THC can be more challenging to balance, CBD is thought to have rapid-acting antidepressant effects.
Safe to use during the daytime, this plant provides an uplifting sensation of mental energy.
As a word of precaution, this strain can sometimes test with very high levels of myrcene. While myrcene is often thought of as a sedative, CBD tends to have an invigorating and energizing effect on consumers.
However, some samples of MediHaze may be more sedative than others.
5. Harlequin
Harlequin is another high-CBD strain very similar to MediHaze. However, Harlequin more often features close to 2:1 ratios of CBD to THC. Similar to many high-CBD strains, Harlequin does not produce a substantial intoxication and is safe to consume during the day.
Like Medihaze, Harlequin has tested positive for greater levels of limonene and beta-caryophyllene, giving this cannabis strain a calm, upbeat, and clear-headed vibe.
This strain also contains fairly substantial levels of myrcene, making it more laid back and quiet than cannabis strains without this sedative terpene.
Those hoping for help getting to sleep at night, however, may appreciate a cannabis variety with higher levels of myrcene and higher levels of THC.
Tips for Choosing the Best Cannabis Strains for Depression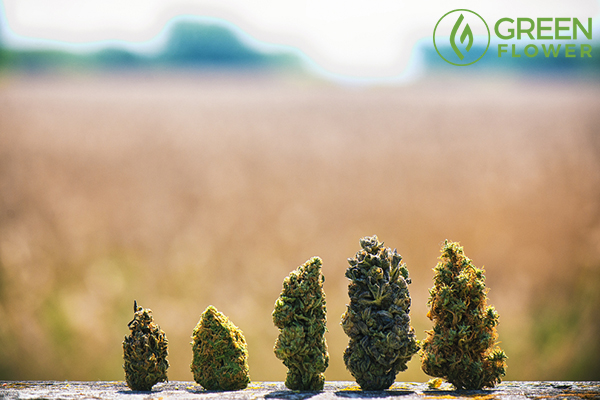 For the time being, choosing the best cannabis strains for depression is not an exact science. Much of the research on cannabis and terpenes is based on preclinical evidence, not large-scale human trials.
Without solid research that determines exactly which compounds are useful for mental health ailments, the best any cannabis consultant or patient can do is to experiment and make educated guesses about what might work.
This is really how most medicines work. The difference with cannabis, however, is that it has such a high safety profile and is generally a very forgiving substance.
When searching for the best cannabis strains for depression, here are a few things to keep in mind to help you make informed decisions:
1. Every strain sample is different
While the strains highlighted in this article have tested positive for certain terpenes, not every strain sample will have the same results.
Although genetics play a role in which terpenes a plant can express, environmental and growth conditions also have a major impact on each individual sample. As such, a plant grown in Toronto may produce different testing results than the same strain grown in Santa Monica.
Opting for strains that have been laboratory tested and reading testing results can help you make more informed selections about which plants may be best for you.
Based on the early evidence thus far, strains that test high in the terpenes limonene, beta-caryophyllene, linalool, and bisabolol are likely good places to start when trying to find the right cannabis strain for depression.
2. Experimentation is necessary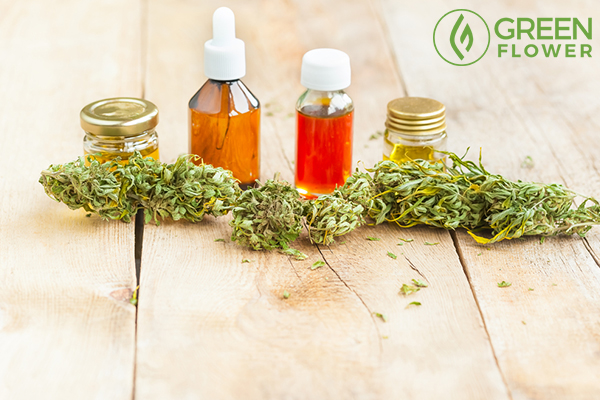 While preclinical research allows for more educated guesses regarding which cannabis strains may be useful for depression, depression is different in everyone.
Further, each individual responds to different cannabinoids and terpenes differently. So, in order to find the right strains and medical cannabis products for depression, some experimentation is necessary.
3. CBD may be more effective than THC
As mentioned above, THC has biphasic effects. This means that while low to moderate doses of the euphoric herb may be effective in managing depression, high doses may have the opposite effect.
Those who are sensitive to THC or prefer a non-intoxicating experience may have better luck with CBD-rich medications, which are currently being studied for antipsychotic and mood-boosting effects.
4. Dosage is important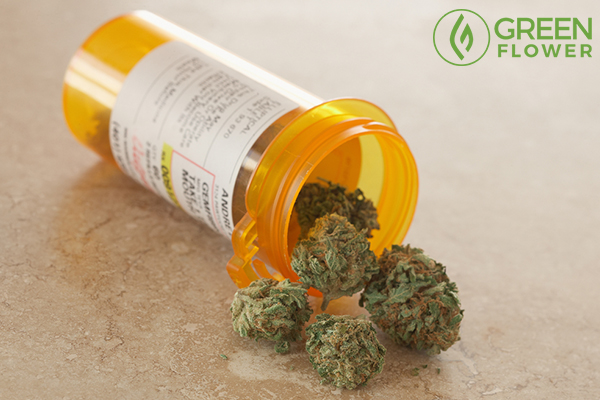 Going one step further, finding the right dose is of the utmost importance for continued relief with cannabis.
Working with a canna-savvy healthcare provider can help you better find which doses are the safest and most effective in your individual case.
For some, the right dose may be a small quantity of either high-THC or high-CBD cannabis. Others may require significantly more to maintain a positive effect.
No two people are alike and it can take some time to strike the right balance between various active cannabinoids, terpenes, dosage, and timing.
5. Track your strains
Want to fine-tune your cannabis experience? Keeping a strain diary and recording your reaction to what you're consuming may help you figure out what works best and what does not.
Plus, it's a good way to keep track of how much you're consuming and how it impacts your overall mood.
Different Ways to Use Cannabis for Depression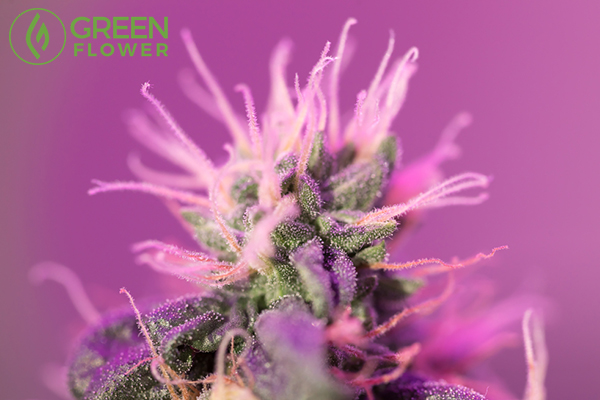 Now for the fun part; hacking our happiness from the inside out.
There are multiple routes that can be used to supplement the ECS with cannabis.
If you need immediate relief:
Vaporizing or even smoking cannabis are both fast-acting delivery methods. A few puffs can result in a quick energy shift away from the depressive state.
A lot of depression patients can get by with just a few inhalations every 24 hours.
Longer-lasting effects:
Tinctures and edibles can also be helpful if you're looking for longer-lasting effects. This could be especially helpful with pain management or insomnia, for example.
Be careful with edibles, however.
They can take a long time before any effects set in, and it can be easy to consume way more than you need, resulting in an uncomfortable experience.
If you want to play it safe, avoid re-dosing too quickly and consider waiting until the next day before trying a larger dose.
Consider Micro-Dosing Cannabis for Depression
We talked about using cannabis to help restore balance to a malfunctioning ECS.
Too much cannabis can swing that balance too far in the other direction, which is where you start to see more side effects and fewer benefits over time. In other words, too much cannabis may exacerbate depression.
Micro-dosing can actually bring more benefits than you might realize, without getting in the way of daytime functioning. It is an effective way to keep the body in a state of relief throughout the day.
What is it exactly?
Micro-dosing is the administration of cannabis via small doses in an attempt to get that just right amount to help relieve symptoms without exceeding your psychoactive threshold.
"By using a micro-dose of cannabinoids, you can find great relief without SSRI's," says Mara Gordon of Aunt Zelda's, a California non-profit that has worked with 1,000+ cannabis patients.
"We have found that when people use cannabis effectively along with a modified diet they are able to manage their depression very effectively without the pharmaceuticals that are often prescribed that have all the terrible side effects."
Happiness Is An Inside Job
Now that you have an inside peek into our internal cannabis connection, the expression, "Happiness is an inside job" takes on a whole new meaning.
The ECS is a direct route literally connecting our body and mind. It is essential to utilize this path in any depression or anxiety therapy.
Consider the following as a part of a therapeutic daily routine:
Eat a rainbow of whole-plant based foods
Exercise to clear out your digestive tract and allow serotonin to be synthesized in our digestive tract/gut
Give someone a tight hug to release dopamine
Utilize the wonderful herb cannabis to supplement and provide our bodies with plant cannabinoids
Take time to listen to your body and trust your "gut" instinct
Do your own research to figure out what works best for your body
Depression and anxiety are conquerable with the right combination of support externally and internally.
Sources:
1. What You Need to Know about Using Cannabis for Depression