The cannabis industry is projected to hit $18 billion by 2021, even if President Trump challenges the recreational market. Read more about the market forecasts in this post from Forbes!
Even if President Trump actively challenges the recreational marijuana market, Greenwave Advisors forecasts that the market will hit $18 billion by 2021. If this doesn't come to fruition, the industry is projected to reach a whopping $30 billion, which is predicated upon every state and D.C having a medical only or fully legal market.
Analyst Matt Karnes supports these projections for his new report by noting that 2016 retail marijuana sales in the U.S. were approximately $6.5 billion, an increase of 35% from 2015's $4.8 billion. "In 2017, we expect growth of 18% to $7.7 billion as new medical use markets come online," he said. He also believes that California will account for 40% of the market and that additional states will continue to come online.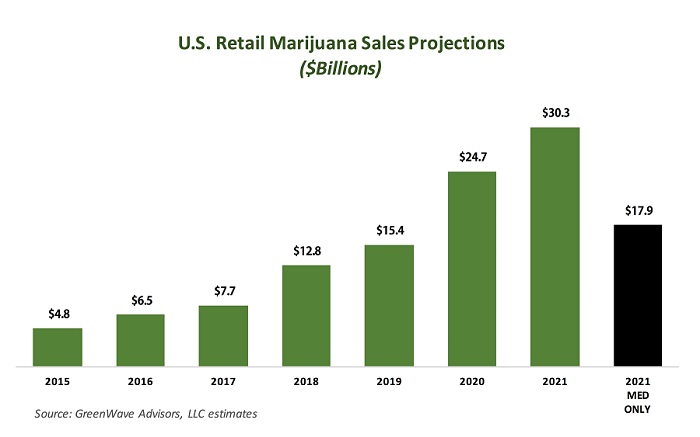 These numbers are driving increasing capital investments into the sector. Even with all the risks associated with this group, the average deal size has jumped from half a million in 2012 to $2.2 million in 2016. 38% of these investing dollars has come from venture capital and angel investors. Since 2012, $1 billion has flowed into the industry.
Greenwave also suggests that the banking problems could ease for cannabis companies under the Trump administration.The major banks have avoided the industry because marijuana is still federally illegal and they have no desire to antagonize regulators. The compliance requirements for servicing these customers keeps the profit margins low. Karnes believes that President Trump has signaled his intent to deregulate banking and lighten the burden of Sarbanes-Oxley. "This event could free up banking resources to focus on cannabis businesses," Karnes said.
Greenwave also speculated that cannabis companies could also receive limited tax relief under the dreaded section 280E code, which specifies that people who run businesses that touch the marijuana plant, such as dispensary owners, growers, product manufacturers, can deduct "cost of goods sold," but no other expenses regularly incurred by running a business, such as rent and utilities.
"Washington state is combining its medical and recreational markets with a 'medical friendly' designation, that requires an in-house certified medical marijuana consultant to issue a 'recognition card.'" Karnes notes. "We believe that allocation of these related costs to costs of goods sold should likely be permissible and provide some tax relief under section 280E," If this is allowed, other states would likely follow Washington's lead.
Of course, the government may prefer to keep the stringent requirements of 280E. According to Greenwave, "federal income tax collections over the next five years could amount to $27 billion under Section 280E of the IRS tax code." Karnes suggests that a more favorable tax rate would attract more capital to the industry and that could offset the high level of taxes collected under the current system.
Another key finding from the new Greenwave report is what Karnes characterizes as the "marijuana market metamorphosis." States are realizing that it makes no sense to keep their medical and recreational markets separate. The regulatory efforts become redundant and many companies have products on both sides of the market. For example, an edible product may have increased levels of CBD for the medicinal consumers but higher THC levels for the recreational customer.
"We see this effort presently in Washington, Oregon and Alaska and expect that Colorado will soon follow," the report stated. If California also combined its oversight, it would be the first state to do so without first regulating medical marijuana. It could be a catalyst for the same move in other states.
Finally, the report suggests that as legalization takes hold, the black market will crumble. "Based on wholesale pricing data from Cannabis Benchmarks, we estimate that currently, the illicit market in the U.S. is approximately $36 billion, which we determine based upon a multiplier of reported marijuana confiscations by the U.S. border patrol and quantities of plant eradication initiated by the DEA."
Featured image credit: Greenwave Advisors also believes that President Trump's easing of bank regulations could help the marijuana industry. (Shutterstock)
Source: Even If Trump Challenges The Marijuana Industry, The Market Could Hit $18 Billion By 2021