In this post from Business Insider, Sean Williams discusses that the American public tends to have a more favorable view of the currently illicit drug with each passing year and how the Colorado voters will soon decide whether the state gets to keep the $58 million marijuana money it has collected or not.
The marijuana industry appears to be blooming, and the American public tends to have a more favorable view of the currently illicit drug with each passing year.
In the most recent Gallup poll, slightly more than half of all respondents (51%) offered their opinion that they'd prefer to see marijuana legalized across the board.
If we're speaking strictly about medical marijuana and the possible benefits it could offer to the terminally ill, or those with chronic medical conditions such as glaucoma, the approval rating soars even higher. A Quinnipiac University poll of swing states Pennsylvania, Florida, and Ohio showed medical marijuana approval ratings ranging between 84% and 88%.
Legalizing marijuana could offer benefits to both consumers and individual states (or even the federal government). States can potentially utilize tax revenue to fund projects within their budget, or even use it to ensure that government-based jobs stay secure.
For the consumer, legalizing marijuana, specifically medical marijuana, would offer access to a therapy that's been shown in a number of recent studies to be helpful in treating everything from Alzheimer's disease to cancer (although additional studies for both indications are still ongoing).
Colorado's marijuana money in limbo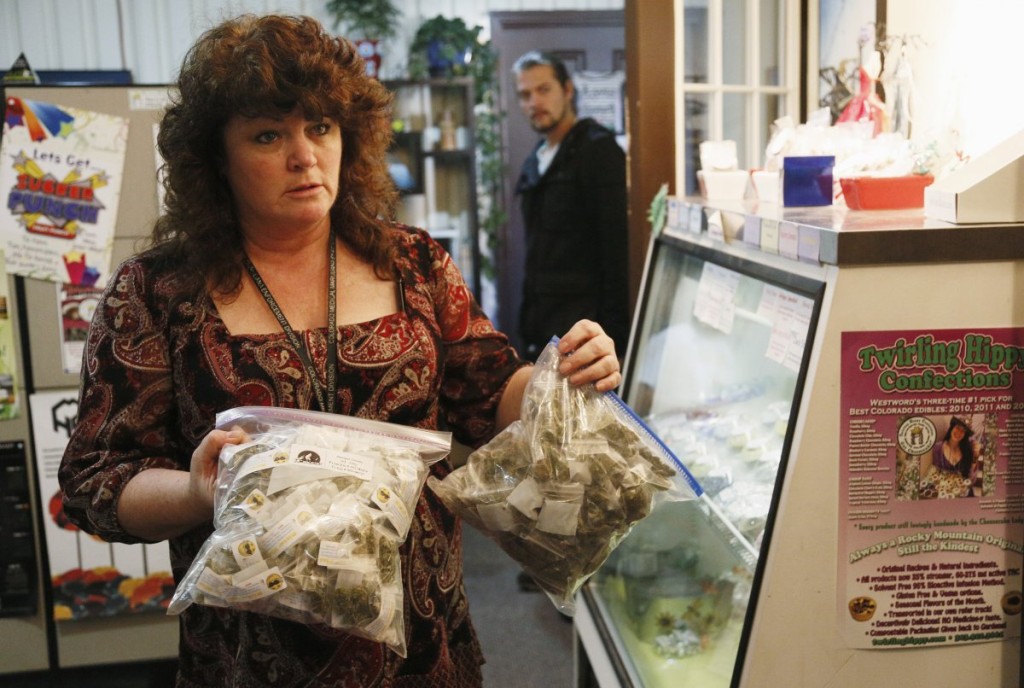 Cheri Hackett, co-owner of BotanaCare, carries bags of the company's sample packs of various strains of marijuana prepared for the store opening tomorrow in Northglenn, Colorado December 31, 2013.
Colorado is one of four states (along with the District of Columbia) that have legalized marijuana across the board. In fact, Colorado and Washington were the very first two in 2012 to legalize the drug, officially "opening up shop" in 2014.
Last year, the legal marijuana industry was a $700 million business for Colorado. Of that, a net of $58 million was collected in tax revenue from the sale of recreational marijuana. Now, here's the interesting catch — this money isn't just the state's to do with as it pleases, thanks to the way the marijuana legalization legislation was written.
According to Gov. John Hickenlooper (D-Colo.), voters will soon need to go to the polls and decide whether the state gets to keep the $58 million it has collected, or if it will be redistributed as a sales tax refund.
If voters allow the state to keep the funds, $40 million will go to public schools and school construction, $12 million will go toward youth programs, marijuana educations, and law enforcement, and $6 million will stay within the state's General Fund.
If voters don't choose this option, $33 million will be distributed back to marijuana growers, and the remaining $25 million would head back to Colorado taxpayers through a sales tax refund. In other words, the "marijuana budget boost" may not happen if voters choose the latter option.
Next year, the marijuana industry is forecast to grow to $1 billion in size from $700 million, meaning revenue collection should be even higher. Therefore, this upcoming vote is extremely important for the future of the marijuana industry in Colorado.
…and a $3.7 million mishap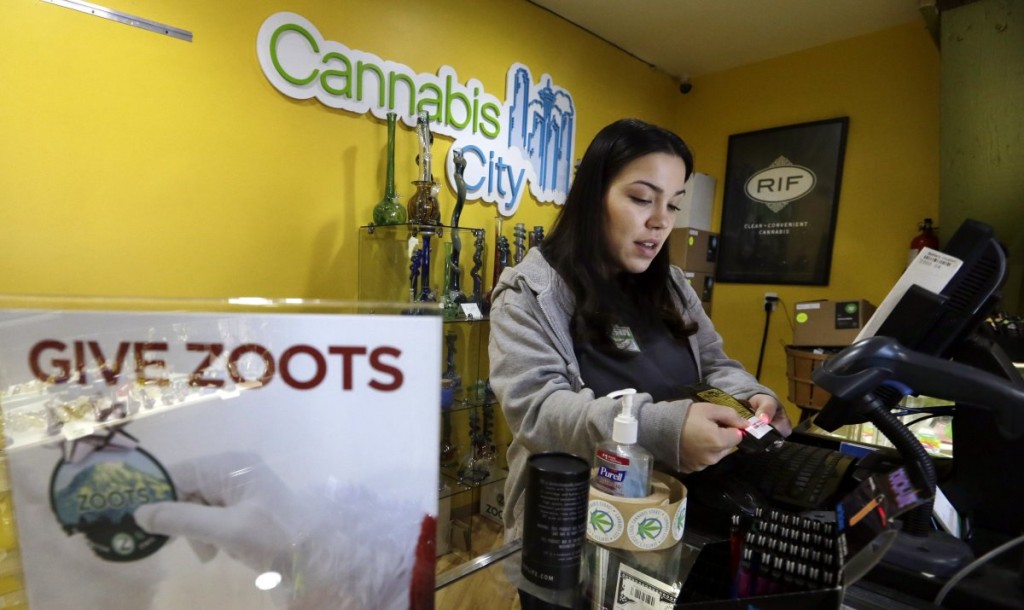 Cannabis City clerk Jessica Mann scans a customer's ID as she rings up a purchase of marijuana at the shop in Seattle.
On top of the upcoming vote that could strip marijuana of $58 million in collected tax revenue, The Denver Post recently reported that a required tax holiday on marijuana could wind up costing the state a whopping $3.7 million.
This is possible because of the Taxpayer Bill of Rights in Colorado, which pretty much states that if the amount of state spending on the marijuana industry (or revenue tax collection) surpasses estimates, a refund is in order.
In 2014, recreational tax revenue collection fell short of the mark, but a healthier than expected economy in Colorado led to robust spending that surpassed expectations.
In order to properly comply with the Taxpayer Bill of Rights, Colorado is suspending the 10% sales tax on marijuana for consumers and the 15% excise tax on the sale of marijuana from growers to retailers for a single day on Sept. 16 (the day after the end-of-the-year fiscal report is certified). This tax holiday will cost the state $100,000 in terms of consumer sales, but a whopping $3.6 million in excise taxes from growers.
Following this one-day holiday, the state tax of 10% and the excise tax will be reinstated.
It's not entirely bad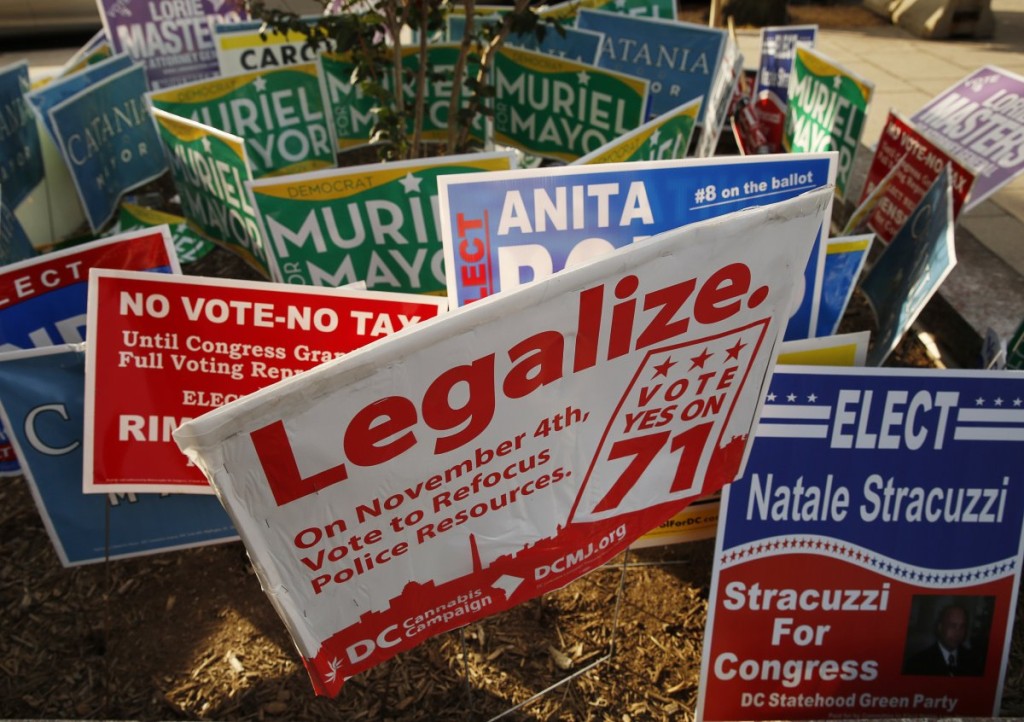 A DC Cannabis Campaign sign is seen with other campaign signs in Washington November 4, 2014. Voters in the U.S. capital and two West Coast states will decide on Tuesday during national midterm elections whether to legalize marijuana in a test for broader cannabis legalization efforts across the United States.
The above scenarios spell out exactly what President Obama and presidential hopeful Hillary Clinton describe as an "ongoing experiment." The truth is, there haven't been any attempts at legalizing marijuana before, so Colorado and this handful of other states are guinea pigs for the rest of the nation to learn from.
It is worth noting, from the standpoint of marijuana supporters, that online site Mic reports violent crimes and property crimes fell in 2014 from 2013 in and around the County of Denver, while traffic fatalities were unchanged last year from 2013 based on data from the FBI and Colorado Department of Transportation.
President Obama has contended that marijuana's societal effects could be one of its greatest sticking points, and at least through the first year in Colorado, it would appear that marijuana's legalization hasn't exactly turned society on its head.
Still a dangerous investment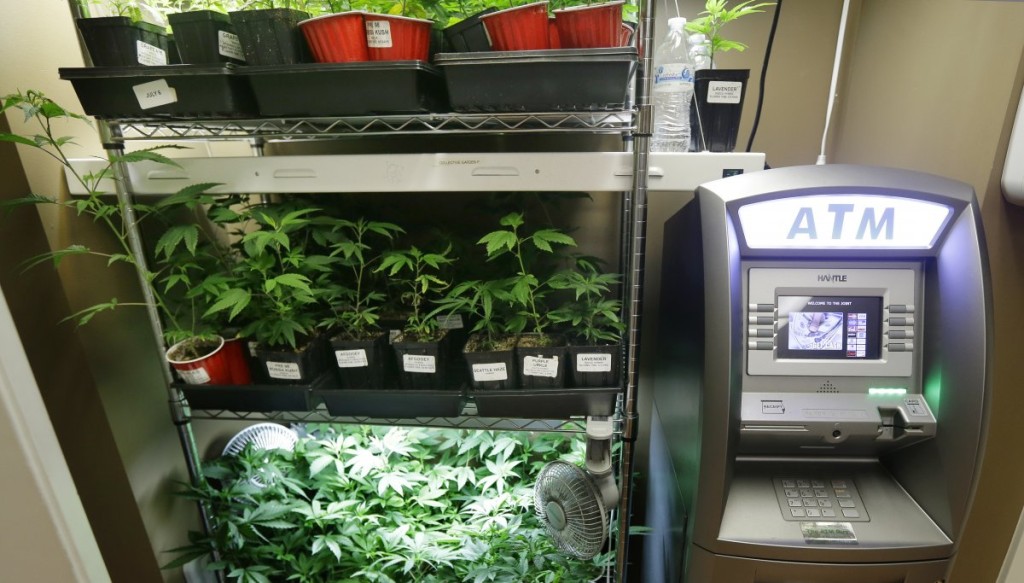 In this Oct. 16, 2013, file photo, an ATM sits next to a rack of marijuana clone plants that are used to grow medical marijuana at The Joint, a medical marijuana dispensary in Seattle.
There are still a number of challenges to overcome if marijuana is ever to be approved nationwide or decriminalized, and if investors in the sector are to ever have a chance at finding a solid investment opportunity in the industry.
The big challenge still remains refuting decades of studies that suggest marijuana has a detrimental effect on a users' health. Prior to the past couple of years, more than nine in 10 marijuana studies focused on its potentially negative effects, leaving researchers with copious amounts of data as to its risks, but few studies that examine its possible benefits.
If marijuana is to be legalized nationwide, even for just medicinal purposes, ongoing studies examining its benefits will need to be given time for data to mature. In short, this isn't an overnight process, and I believe lawmakers want to wait for this data to develop before even considering the idea of rescheduling marijuana to a potentially non-illicit drug.
Effecting change across the country could also be difficult. Some state governors and jurisdictions still oppose marijuana and would likely continue to do so even if the federal government changed its stance on the drug.
While it would appear the marijuana industry in a handful of states may continue to grow, the hiccups are also likely to continue for some time. Assuming Congress and the president continue to view marijuana as a low administrative priority, it would be in investors' best interests to keep their money on the sidelines instead of speculating on what could be in a still very unproven industry.
via Colorado may not get to keep its marijuana money after all – Business Insider.