If the Agriculture Improvement Act of 2018 passes, by 2022 hemp-derived CBD products may have a bigger market than all the cannabis markets in the US combined. This post from GreenCamp highlights how hemp-derived CBD industry may outgrow the cannabis industry in just a few short years.
Most people that have been hearing the news about medical marijuana know that there are 2 very important molecules, THC and CBD, which help patients with handling their illnesses.
Aside from those two, there are around a 100 other molecules that play a role in that, but let's focus on the one that has been scientifically confirmed to have medical benefits — CBD or Cannabidiol.
Cannabidiol is a cannabinoid which has a tremendous healing power when applied properly and with the appropriate dosage. CBD has a huge untapped potential, just watch the video below:
As you can see, Cannabidiol works almost as a relaxant for people with muscle spasms, twitching, and uncontrollable movements.
But, that's not the only type of relief Cannabidiol can bring to its users, as in this video the man takes a drop of CBD oil orally through the mucous membranes in his mouth, which is one of the fastest ways to ingest it.
CBD can be produced in almost every form, meaning that you can smoke it, vape it, eat it, rub it on the inside of your mouth, use it topically for joint pain relief… there are countless applications for it.
Why isn't CBD popular yet?
Truth be told, just the fact that it is extracted from the cannabis plant gives Cannabidiol the stigma of being an illegal drug that will corrupt its users.
This is absolutely not true, as it should be clear by now that such a ridiculous lie could only be spread by the ignorant, under-educated lobbyists which are profiting from its direct competitors.
CBD is the perfect cross of alternative medicine and western science. As we mentioned, it is extracted from the Cannabis Sativa plant, but it doesn't necessarily have to be.
Since Cannabidiol is a molecule that appears in most of the plants in the same group as Cannabis Sativa produce it to some extent.
Hemp is one of those species, although it produces CBD in very low levels — around 25 parts per million. For comparison, CBD oil made from regular marijuana reaches around 15% concentration or 15 parts per hundred, about ten thousand times more.
Hemp doesn't have the psychoactive molecules (THC), although the Industrial Hemp Farming Act of 2009 makes it federally illegal to grow hemp, as it has traditionally been lumped together with cannabis.
Since that law went into action 13 states have legalized the cultivation of industrial hemp.
According to a report by the BrightfieldGroup, called HEMP-DERIVED CBD, the hemp CBD market is on track to be hit $600 million USD this year and may grow nearly 40 times that by 2022.
Since both hemp and cannabis produce oil, although cannabis's is significantly stronger, and both plants produce CBD to some extent, this means they could be seen as competing crops.
Hemp can also produce an oil that is totally different from CBD oil, as CBD is extracted from the seeds, while hemp oil is extracted from the whole plant.
Let's take a look at the differences between hemp oil, and CBD oil: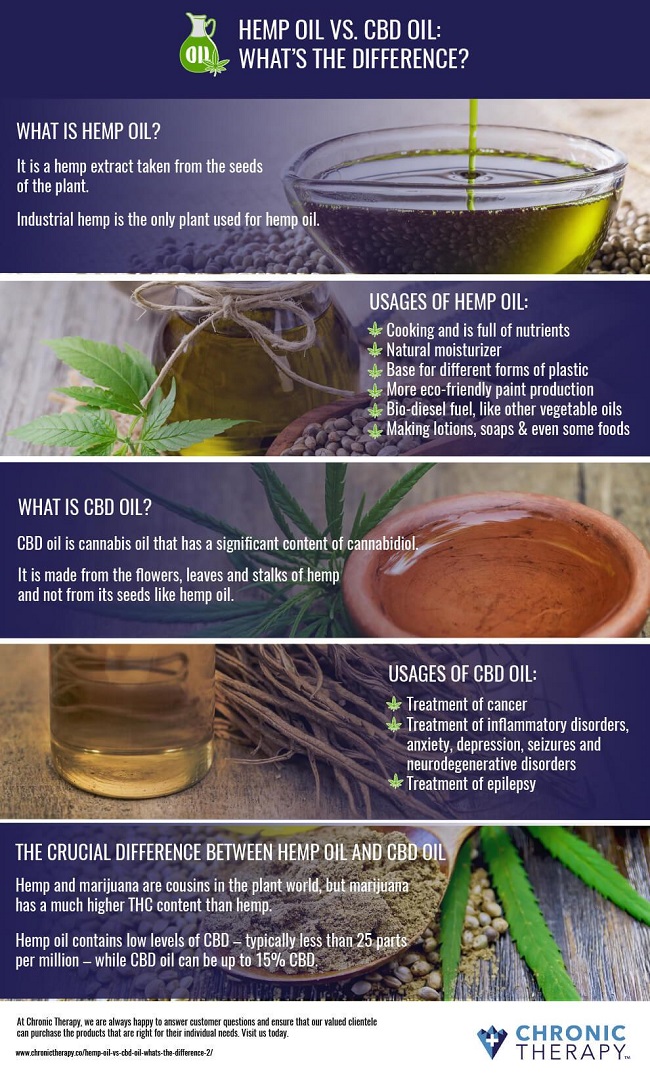 If the  Agriculture Improvement Act of 2018 passes industrial hemp will be legal in all 50 states, which will allow for commercial extraction of CBD, and production of hemp-based CBD oil.
Commercial bottles of CBD oil that you may have seen on the shelves of various dispensaries, head shops, health food stores, etc. are usually filled with about  85-97% or more hemp seed oil or, vegetable glycerin, and the rest of the contents is the 3%-15% of Cannabidiol.
Production of CBD oil can be achieved through the hemp plant, without the need for any additives, which makes it extremely worthwhile the time for everyone from farmers to lawmakers.
The CBD industry is rapidly expanding
According to the Brightfield Group report we mentioned before, the CBD industry is exponentially expanding.
The current market is around $600 million USD in the US alone, meaning that the global projection for 2018. should be around $1 billion.
The report projects a five-year CAGR (Compound Anual Growth Rate) of 132%, which puts the US Market in 2019. just below $1.4 billion.
Currently, the biggest players in the CBD industry are :
CW Hemp – 14% market share
CV Sciences – 12%
Kannaway and HempMeds (Medical Marijuana Inc.) – 10%
Green Roads – 6%
These 4 companies may hold more than 40% of the total market, which isn't unheard of, but there are also companies that lost market share due to huge growth in the sector but are still making much more than last year in sales.
As for the product types, there is certainly to be more innovation in that fields as we are just starting to see the benefits of hemp CBD oil.
These are the most popular CBD product types so far:
Tinctures – 39% of sales
Topicals – 19% of sales
Capsules – 17% of sales
The rest of the products are various types of creams and infused drinks and foods, such as facial scrubs, honey, coffee, and CBD water.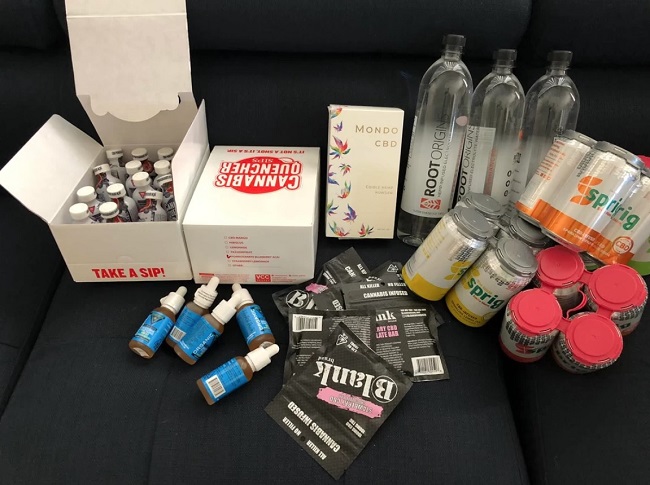 Just two years ago CBD products made up less than 5% of all sales in the overall cannabis market, and this year all the parts are coming together.
The passage of the Agriculture Improvement Act of 2018 will be of crucial value for the CBD industry, both in the US and abroad as many countries tend to follow America's drug policies.
Hopefully, we'll see the CBD market blossom into a monster that the analysts are projecting it may become in just a few short years.
Source: Hemp-derived CBD industry may outgrow the cannabis industry by 2022