Engineering students team with a hybrid greenhouse design firm for capturing the benefits of outdoor growing as well as indoor climate control for growing marijuana. This post from The Cannabist unveils a scale model of the new hybrid greenhouse.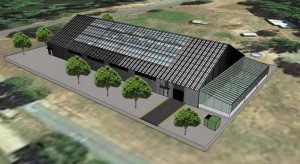 Students team with Boulder firm Surna, which designs hybrid greenhouses, on a project that boasts the benefits of outdoor growing with indoor climate control
Nine senior engineering students at the University of Colorado are teaming with local business Surna (OTCMKTS: SRNA) to design a scale model of the company's new hybrid greenhouse for cannabis growers.
Surna engineers state-of-the-art equipment for controlled environments with a focus on the marijuana industry.
The student team from CU is helping Surna with its newest product: a climate-controlled building that is a mix of an indoor grow operation and a greenhouse, the two most common methods of growing marijuana.
"What we've taken is an indoor grow and put a clear ceiling and roof over the space," said Surna CEO Stephen Keen. "So there is no outside air going in" (bringing with it pests and pathogens) "but it is sunlit — no one disputes that plants grows best under sunlight."
The unique design of the building will also result in significant energy savings, Keen said, by redistributing heat and recycling water — both of which are typically expelled outside the building.
It was senior Catherine Villa, interning with Surna over the summer, who suggested working with a team of her classmates.
"I'm a mechanical engineering student, so we work a lot with HVAC and thermodynamics," she said. "I thought it would be a a really great idea for us to do see how (those) work in the industry."
The fall semester was spent designing and planning the scale model. This semester, materials have been ordered, and assembly will soon commence.
The project's wrapup will coincide with the end of the semester, and the finished model will be displayed at a senior design expo on April 22.
After that, Villa hopes her future includes continuing work at Surna.
Keen said the chances of that happening are "pretty high."
"We like her around here. We'd miss her if she wasn't coming in."
Source: CU students team with Boulder marijuana greenhouse builder