Jeff Sessions' notice on rescinding policy allowing states' legal cannabis rights causes ripples across the industry. Find out more in this post from CBS News.
Attorney General Jeff Sessions issued a marijuana enforcement memo Thursday rescinding the Obama administration's guidance, which enabled states to legalize marijuana without federal intervention. His one-page memo makes it clear that marijuana possession and distribution is against federal law, and it will direct U.S. attorneys to approach these cases as they do all other cases when enforcing them.
The move now injects uncertainty into the growing industry in the regions of the country that have legalized the drug, CBS News' Jeff Pegues points out. Many are likely to be confused about whether it's okay to grow, buy or use marijuana in states where it's legal, since long-standing federal law prohibits it.
So far eight states and the District of Columbia have legalized the drug for recreational use, and it is now helping to fund schools and even law enforcement.  California just began selling recreational marijuana in recent days. The new guidance threatens to upend sales by giving federal prosecutors more discretion in how they enforce federal law.  According to a senior DOJ official, "This is the return of the rule of law," Pegues reports.
Sessions told reporters Thursday that the Obama guidance in the Cole memo — written by then-Deputy Attorney General James Cole — wasn't consistent with federal law.
"It was interpreted as  a safe harbor for individuals," Sessions said. "This memo does not have safe harbors in it."
He said that U.S. attorneys should understand that the attorney general believes marijuana is against federal law, and should there be prosecutions that need to be brought in order to enforce that law, "then they should" bring those cases.
Today, 29 states have adopted medical marijuana laws. In 2012, Colorado and Washington became the first states to legalize recreational marijuana, and since then, five more states have passed recreational marijuana laws, including Massachusetts, where retail sales are scheduled to begin in July.
States that have already legalized marijuana are likely to protest Sessions' directive. Colorado Sen. Cory Gardner said before Sessions' announcement that the attorney general is going back on what he'd told Gardner earlier.
He tweeted that this "contradicts what Attorney General Sessions told me prior to his confirmation. With no prior notice to Congress, the Justice Department has trampled on the will of the voters in CO and other states."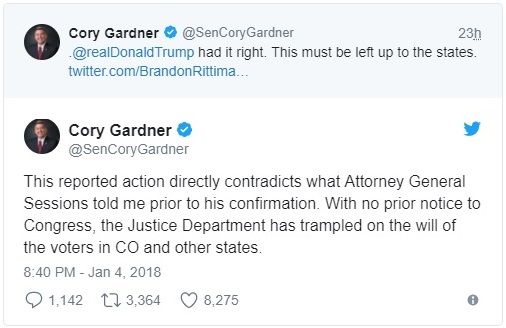 And he's also threatening retribution. "I am prepared to take all steps necessary, including holding DOJ nominees, until the Attorney General lives up to the commitment he made to me prior to his confirmation," he tweeted, along with a reminder that "@realDonaldTrump had it right. This must be left up to the states."
But any private assurances Sessions may have given Gardner before his confirmation hearing were not necessarily evident in that testimony. He told senators who asked him about this very issue that "one obvious concern is that the United States Congress has made the possession of marijuana in every state and distribution of it, an illegal act."
He went on to suggest that it fell to Congress to change the classification of marijuana as an illegal drug if it didn't want DOJ to enforce the law against it.
"It's not so much the attorney general's job to decide what laws to enforce," Sessions said. "We should do our job and enforce laws effectively as we're able."
Sessions' action is a departure from the Obama administration's policy, which issued guidance in 2013 that it would not interfere in state and local initiatives to legalize marijuana, as long as they didn't interfere with federal law enforcement priorities.
In an interview with Rolling Stone just after he left office, Obama explained the dilemma for the Justice Department in prosecuting the federal ban on pot, which is considered a Schedule 1 drug, one which the FDA says has no medical use and has a high potential for abuse.
"[I]t is untenable over the long term for the Justice Department or the DEA to be enforcing a patchwork of laws, where something that's legal in one state could get you a 20-year prison sentence in another," Obama told Rolling Stone. "There's something to this whole states-being-laboratories-of-democracy and an evolutionary approach. You now have about a fifth of the country where this is legal."
Sessions, however, compares marijuana to heroin and blames it for spikes in violence.
Source: Jeff Sessions pot announcement: rescinding policy allowing states' rights – CBS News