The moral dilemmas around marijuana are giving way to business cultures and accidental marijuana entrepreneurs are proof of that. This post from The Cannabist turns the spot light on the blending of marijuana culture with business culture.
For people with traditional business backgrounds, the path to cannabis industry isn't always straight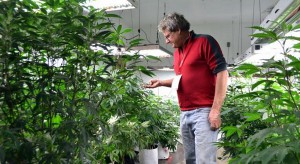 Eric Jacobson scoops up a handful of rich soil. The largest organic marijuana grow on the Western Slope soon will take root in this dirt.
"Perfect sandy loam," he says, kicking through snow a few yards from the gurgling Uncompahgre River. "You don't dare build homes on this. There's a higher and better use for this land than 3-acre ranchettes."
If you told Jacobson a decade ago that he'd be emerging as one of Colorado's top marijuana entrepreneurs, the father of three and longtime hydroelectric power plant developer would have laughed and said something like: "Only if everything in my life has gone horribly awry."
Jacobson is an accidental marijuana entrepreneur — one of many in Colorado who find their traditional skills in areas such as finance, real estate and the trades in high demand as the cannabis industry matures. Two cultures are blending along the way: advocates who pursued a life around marijuana but labored in secret, and newcomers, such as Jacobson, who never considered cannabis in their career plans.
"You've got these guys who have spent their whole lives growing in the basement, and they are a bit crazy, in a nice way. But they are from the old tribe," says Jacobson, who in early December closed on a 40-acre certified-organic herb farm in Ridgway where a Front Range hash oil manufacturer is planning to grow organic pot. "And then you've got people like me, who really can't tell the difference between growing marijuana and having a machine shop that makes bolts.
"It's a product where there's demand," he said. "And if you are a manufacturer at heart, you provide what the market wants, and you don't put this moral weight on it."
A decade ago, Meg Sanders was volunteering at her kids' schools, helping the football booster club and working at a private equity firm. She didn't think about marijuana. She didn't consider it an industry.
Now, in her fifth year as CEO of Mindful, she's the boss of one of Colorado's larger marijuana growers and retailers. The blending of marijuana culture with a business culture, she says, "is one of the most interesting dynamics I've ever seen."
"I truly don't think this industry will turn into the best it can be without the two cultures learning how to honor each other," says Sanders, who travels the country — most recently to Tennessee — helping craft legislation to legalize medical marijuana sales.
Uniting the old school with the new school is a trying task, she says, but once both sides recognize the power of a unified voice, the sooner the cannabis industry will thrive on a national level.
"I hear both sides saying the same things about what needs to happen, but they are going through different motions to get there. And therein lies the conflict," Sanders said. "I wish I could figure out a way to create more of a coalition between the activism side and the business side."
There is an understandable wariness among lifelong marijuana people about these newcomers — especially those who don't use pot.
"So many people sacrificed their lives — went to jail or even worse — and all they did to make them a criminal was have this fascination with a plant," says Mike Eymer, who spent most of his adult life growing marijuana and now is a travel agent and owner of Colorado Cannabis Tours. "Still, it's refreshing to see all this new blood in the industry. I think it's mixing well … but I don't like to hear from people who own marijuana companies but have never tried marijuana before. No one would work in the brewing business and say 'Oh, I've never had a beer before.' "
The moral dilemmas around marijuana are fading. It's a business now.
Deloise Vaden and Elyse Gordon were high school classmates in Denver more than 40 years ago. Today, the 60-something pals run Better Baked, where since 2009 they have been creating marijuana-infused edibles, such as honey candies, butter spread, olive oils, cookies, pies and breads.
Vaden and Gordon were not bakers when they started the company. Vaden made handbags and ran an art gallery. Gordon was in real estate.
"It's just a business thing we fell into, but it's something we feel strongly about," Vaden says. "There are a lot of the medical aspects that we like and are important to us."
Vaden and Gordon were young adults in the 1970s. They were not clueless about marijuana.
"But we never saw ourselves ending up doing this. We never thought it would be legal back then," Vaden says. "It's just a business we are in. We got here in a very roundabout way."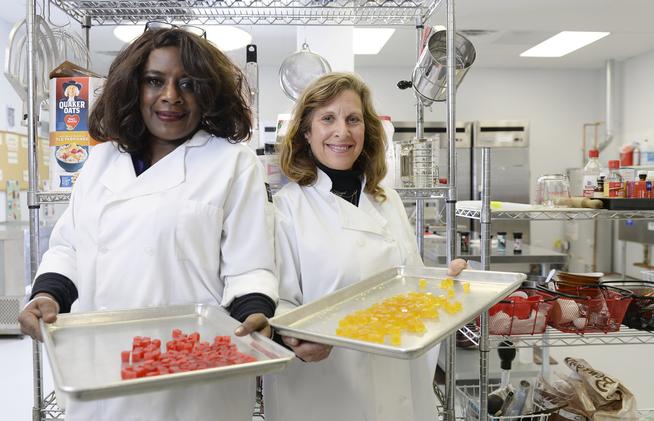 Heidi Keyes was a flight attendant and aspiring artist when she moved to Denver six years ago. She liked to smoke marijuana. It stirred her creativity when she was painting. Right before recreational marijuana was legalized, a friend suggested an idea: Offer a painting class, but instead of sipping wine, why not smoke weed?
Today her Puff, Pass & Paint business is thriving. Her weekly 28-person classes often sell out, and most have a waiting list. She's expanding into Seattle and Portland, Ore.
"I started this as somewhat of a joke and something to do for fun, and it has blossomed into a huge project that is expanding nationally," says the 29-year-old Keyes, who still struggles to talk about her business success with friends and family back home in Wisconsin. "I fell into this industry 100 percent by accident. I'm so glad my life took this turn."
Jacobson shares that sentiment. Born and raised in Eagle County, he renovated the Bridal Veil hydroelectric power plant above Telluride in the early 1990s. He raised his kids on top of the waterfall that pours into the box canyon, ferrying them to school by snowmobile in winter. He lived there from 1991 to 2010, eventually leaving after years of water litigation evaporated his energy and income. He has owned the Ouray Hydroelectric Power Plant since 1992.
In the 1990s, Jacobson partnered with a greenhouse company that grew tomatoes across the state, developing a way to capture steam from nearby power plants to heat greenhouses.
The business grew. And when it sold to an even larger farm operation in the early 2000s, Jacobson says he took his "big, shiny check" and bought a 65-acre former gravel pit with a giant tin barn on the Uncompahgre River in Ridgway. He stored his toys in the 10,000-square-foot barn where the previous owner had parked cement mixers.
Today, that barn is headquarters for ACME Healing Center, which has five dispensaries in southwestern Colorado.
The facility has 800 indoor plants in the winter and more in the summer, when it uses old indoor tennis court canopy frames from the dormant Cornerstone development up on Dallas Divide as outdoor greenhouse supports.
Jacobson, a sort of landlord-partner with ACME owner Chris Sanchez, recently joined a venture capital investor to buy Shining Mountain Herbs farm across the river.
Tim and Sheila Manzagol will continue to grow organic herbs used in medicinal extracts and salves there, just as they have since 1996.
Construction began in mid-December on an 80,000-square-foot facility where a tenant will seek green certification for cannabis for its proprietary hash oils. The idea is to build the largest organic marijuana grow on the Western Slope, Jacobson said.
"I'm convinced this is going to be the Napa Valley of weed and we are going to be the Silver Oak," says Jacobson, noting how difficult it would be for an old-school marijuana grower to build the facility without outside investors. "It's a fun partnership. We need the people who have been growing in basements and in the woods for the last 25 years, and they need us. We all get along swimmingly, but we are coming from totally different planets."
Source: Colorado cannabis industry embraces traditional biz skills