On the ground in Las Vegas the night marijuana became legal for all adults! This post from Rolling Stone covers Nevada's first night with recreational weed.
At first glance, it's hard to decide who's wearing the better outfit: the mustachioed man with the bud-leaf button-up and rhinestone ball cap, or the ponytail guy with the tie-dye shirt featuring a Rastafarian Cookie Monster, who looks a lot like regular Cookie Monster, but with dreadlocks and a treat you assume is laced.
But this isn't a costume contest – it's a celebration outside a dispensary, complete with DJs, food trucks and a line that belongs at the airport. That's because on Saturday at midnight, Nevada became the fifth state to open dispensaries to recreational users, joining Colorado, Oregon, Washington and Alaska.
"It's like Christmas wrapped into New Year's," says Scot Rutledge, who worked on the Regulate Marijuana Like Alcohol campaign, which pushed for the successful ballot initiative last November. "It's surreal."
Under Nevada law, people 21 years of age and older can now buy and possess up to an ounce of flower, or an eighth-ounce of concentrates like wax, shatter and oil, available at dispensaries throughout the state. It's a new frontier, even for a place where gambling, prostitution and drinking in public are legal. Nevada expects to collect $70 million for education in the next two years by taxing recreational at about 34 percent. Its medical program, protected by a recently passed law, will collect fewer taxes, keeping costs down for sick people. California, Maine and Massachusetts also passed recreational measures in November, but have yet to finalize their rules.
"It shows that Nevada can regulate and process the issue of getting this done quicker and with less bumps – far fewer bumps than we saw in Oregon with the fast track, fewer bumps than we saw in Washington with adult use, and fewer bumps than Colorado," says Leslie Bocskor, the man in the marijuana shirt, a cannabis-industry financial advisor who raised money for the campaign to get recreational weed on the ballot. "Why? Because Nevada has been regulating things that other people don't know how to regulate for decades."
Disbelief was a popular sentiment among revelers at Reef Dispensaries in Las Vegas, which staged a massive block party to commemorate the occasion. Inside, customers inspected products through magnifying jars, while concierge-like clerks advised on the best bets for sleep, pain or just a good time. The space looked like a high-end sneaker shop – bright and sleek, filled with merchandise marking "Day 1," and a logo that could moonlight for a snowboard brand. But instead of shoes they sold pot for $35 to $65 per eighth.
State Sen. Tick Segerblom, the pro-pot legislator who backed both medical and recreational, made the first purchase. His choice? Segerblom Haze, of course.
Monday on Nevada Public Radio, Segerblom marveled at the diverse crowds he saw throughout the weekend.
"For a long time, we were all felons and we were afraid to let anybody know we liked marijuana," he said."All of the sudden you can stand up openly and wave and say, 'It's legal, I can have an ounce, I can walk it around, I can put it in my car, I can do anything I want to do.'"
Several customers expressed relief.
"I just couldn't believe the day has come and that's it's finally real," says Nicholas Hatheway, a medical user who doesn't mind that recreational has caused his $5 pre-rolled joints to jump to more than $8. "The lines are longer, and the products are probably going to run out faster, but I'm not greedy. I think everyone deserves this."
More surprising than the thousands of people who waited in line to buy legal weed at midnight is the near-drug-bust that set this into motion. As weed went on sale in Nevada, the man behind November's ballot measure was kicking back in Oregon, enjoying the ride from afar.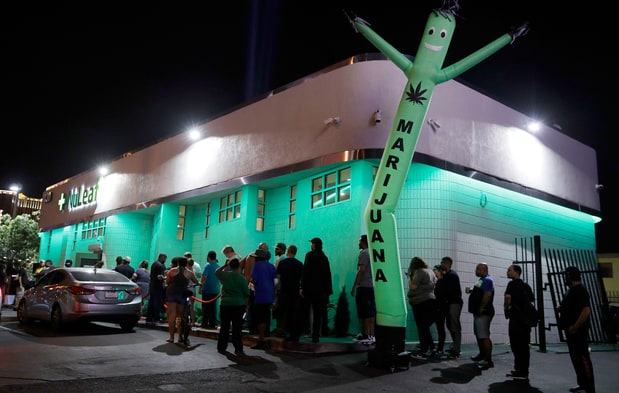 It all started in 2008, on Mitt Romney's presidential campaign trail, in a hotel in the small town of Elko in northwest Nevada. Joe Brezny, Romney's state director at the time, was meeting with the Secret Service Advance Team, the guys who secure properties before important politicians visit. Afterward, he headed upstairs to smoke.
"I used to smoke a joint on the steps of the Supreme Court everyday when I was Bill Raggio's chief of staff," Brezny says. "The guards were so old, I don't think they knew what pot smelled like."
Unfortunately for Brezny, the Secret Service did. An agent had knocked on the door to discuss something unrelated, but couldn't ignore the obvious odor coming from the room. Brezny apologized, and the agent agreed not to tell, but warned him of the seriousness of the offense – he could lose his job, even his career.
Brezny recalls being relieved, but says that feeling quickly faded. He thought of kids whose career aspirations would be ruined by a pot charge, or people of color who wouldn't get off with a warning.
"When I thought about it later, it really pissed me off," he says.
At that moment, Brezny vowed to legalize pot in Nevada, mostly, he says, because it would've been irresponsible not to. He teamed up with his friend Neal Levine, then of the Marijuana Policy Project, and the two got to work.
Nine years later, the rules regarding marijuana in Nevada are straight-forward: Users 21 and older with valid ID can purchase in cash and possess, though driving under the influence is illegal and products can only be consumed on private property with permission from the owners. That doesn't include hotels and casinos, but advocates are working on other venues.
A bill that would regulate consumption lounges died in Nevada's 2017 legislative session, but Rutledge expects it can be worked out on the local level, and he hopes to create a model for other states to follow.
Of the states where recreational is legal, only Colorado is working on public consumption, allowing businesses like bookstores and yoga studios to apply for permits. But Colorado is limited by indoor smoking bans, which Nevada is not.
If all goes well, lounges connected to dispensaries could open later this year.
"In Las Vegas, you have strip clubs, so you'll have consumption clubs," Rutledge says. "It's not the exact same thing, but it's a similar model."
Until then, people are just glad recreational is here. Especially the guy in the Cookie Monster shirt.
Featured image: A man shopping for cannabis on the first night it was legal in Nevada. John Locher/AP
Source: Legalized Pot: Nevada's First Night With Recreational Weed – Rolling Stone