Marijuana tech start-ups, from social media to hard science, are hoping to see accelerated revenues from growth in legal marijuana business sector. This post from CNBC discusses the opportunities and challenges faced by marijuana tech start-ups.
The start-up world can expect to see a different kind of green in the next few years if the marijuana business grows as rapidly as some expect.
Legal marijuana sales grew to $5.4 billion in 2015, up from $4.6 billion in the prior year, and sales are expected to grow by 25 percent to about $6.7 billion this year, according to research firm Arcview's latest marijuana market report.
"We are going to see the legal cannabis industry create, tailor to and adapt technology for agriculture, plant compound extraction, security and finance," said Leslie Bocskor, a funds manager who focuses on marijuana businesses for Electrum Partners. "As the industry grows, it will rely on technology to facilitate the development of businesses from an innovation perspective, which will create a more fertile environment for investment."
"We at Electrum expect the legal cannabis industry to be the leading creator of new jobs, leading provider of new tax revenue, and the overall leading creator of wealth in the U.S. for the next 10 years," said Bocskor, who wouldn't disclose how much his firm has invested in marijuana-related businesses.
But Bocskor likens the marijuana industry now to the advent of antibiotics in the 1920s.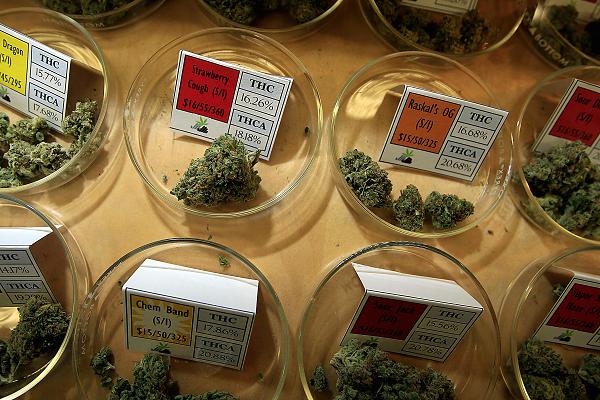 "We're only at the very beginning, essentially like being at the very beginning of Sir Alexander Fleming discovering penicillin as mold in a petri dish. That's how it started, and now how broad are antibiotics as a category of medicine? In the same sense we're just looking at the very beginning of cannabis," Bocskor said.
But with opportunity comes risk. The growth of marijuana businesses, including marijuana tech businesses are limited by legal hurdles.
Medical marijuana consumption is allowed in 23 states, the District of Columbia and Guam. The federal government considers marijuana a dangerous drug and its distribution is still a federal offense.
But marijuana tech start-ups held back from further growth expect that dam to break, and soon, releasing pent-up demand for legal medical and eventually recreational marijuana use.
Isaac Dietrich, founder of cannabis-focused social media site Massroots, said he expects to see his company's revenue and site user growth to accelerate this year. Last year, Massroots applied to be the first marijuana-related tech firm listed on the Nasdaq. It still hasn't achieved that listing, but shares of the company are currently traded over the counter on the OTCQB, Dietrich said.
And the budding marijuana tech sector is more than social. It includes companies focused on hard science as well.
Weed tech firm Potbotics, for example, uses patient brain scans to help determine the best strains of marijuana to treat specific diseases.
"Technology is at the core of the transformation of cannabis cultivation, manufacturing, retail and delivery. Industrial agriculture best practices and technology are in the process of migrating over to the cannabis space, allowing for optimized yields, water and energy efficiencies," said Paul Warshaw, founder and CEO of Greenrush, a marijuana delivery service.
Eventually, the consumer experience could be so streamlined that it will be a far cry from a shady, street-corner transaction.
"Payments for marijuana will be processed online, with the same security and ease of an Amazon checkout. Drivers and patients will be protected from the dangers presented by cash sales," Warshaw said.
"Once the order is placed, algorithms will determine the fastest transportation staff, modalities and routes for delivery. Driver tracking tools will provide unparalleled efficiency, comfort and security throughout the delivery process. And completion of the order will be as simple as tipping and rating your Lyft driver at the end of a ride," Warshaw said.
But for now, the fact that marijuana is still illegal under federal law makes it impossible major banks to get into the business.
JPMorgan Chase, for example, recently closed an account owned by Green Flower Media, a company that provides information on marijuana and its use.
"As a federally regulated institution, we don't process payments for businesses participating in federally prohibited activities," Mary Jane Rogers, a Chase spokeswoman, told CNBC.
In an email to CNBC, Green Flower Media founder Max Simon said: "I understand the long-standing stigma about cannabis, but it's unfair, unjust and ignorant to make an emotional decision to shut down our account when we have already been approved, followed their guidelines and changed nothing. This is not protecting their risk. This is discrimination."
The bank also closed the business and personal accounts of marijuana entrepreneur Martin Tobias, CNBC reported last year.
"We need to solve the banking problem, and I think the solution is going to have to be legislative or come from the government," Bocskor said. Also: billions of dollars in cash per year are changing hands, raising concerns about personal safety among those involved in transactions.
"It's a risk. And we need to get that cash out of the system and we need to give them electronic banking to be able to keep the cash out of the system," Bocskor said.