In this post from Forbes, Debra Borchardt puts together a list of the top business women in the non-traditional world of the marijuana industry.
The non-traditional world of the cannabis industry looks very much like the regular corporate world – all men, but these women are out to change that. If marijuana were legalized for general use nationwide, the industry could grow to $45 billion, second only to the beer industry according to Marijuana Business Daily's 2015 Factbook. As a result, there has been a boom in start-up companies hoping to get into the industry early and the amount of capital willing to fund these companies has increased by 900%. There are some impressive, influential women that have jumped right into the industry with hopes of establishing a strong foothold and breaking down traditional corporate barriers. They are positive, strong willed women and they run their companies "like a boss." These are the top business women in the marijuana sector.
Emily Paxhia – A co-founder of Poseidon Asset Management, Emily and her brother Morgan decided to get into the cannabis industry after the tragic loss of both parents to cancer. They saw first hand how medical marijuana could have helped ease their parents illness. When she and her brother found themselves out on the west coast, the former New Yorkers saw that the timing was right to strike out on their own and return to their entrepreneurial roots. Paxhia brought to the table ten plus years of work as a brand consultant and market researcher. Emily's ability to reach out to investors and her brother's investing skills were the magic for founding Poseidon Asset Management. Along with their third partner Christopher Otchy, the fund was established in January of 2014. Poseidon is hoping to raise $10-15 million dollars in capital this year.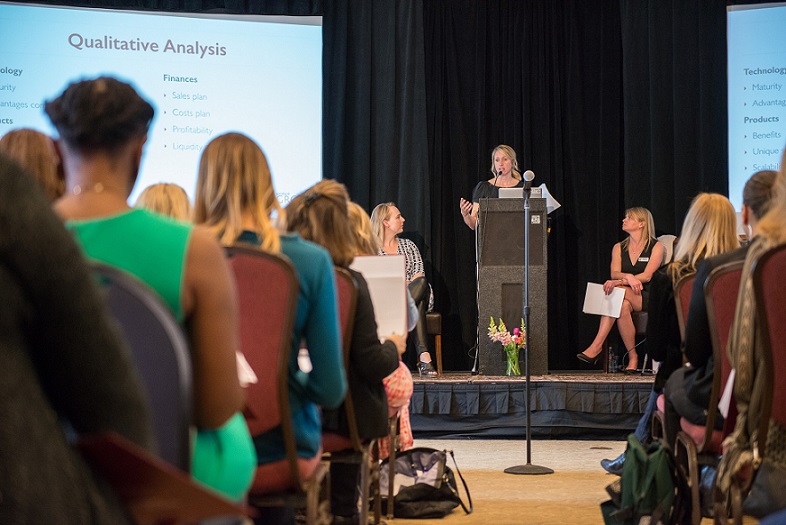 Jazmin Hupp – WomenGrow was founded in the summer of 2014 by Jazmin Hupp and Jane West. WomenGrow is a national professional network that connects leaders and entrepreneurs in the marijuana industry. The group cultivates female leadership through programs and events across the country. In just a short time the group has grown to 30 chapters nationwide. Hupp is the Executive Director and spends a whopping 35 weeks of every year on the road. "We were attending these cannabis events and we weren't finding our tribe," said Hupp. "So we decided to set up these events meant to welcome women into the industry and be the first place they come when they are interested in the industry." The group is sponsored by companies within the industry and has received commitments from fifty different companies and uses the #First50 to recognize this campaign. The group's next big event they are involved with is the Cannabis World Congress in New York June 17-19.
Amy Poinsett and Jessica Billingsley – Cannabis software company MJ Freeway is headed by two dynamic women. Amy Poinsett is the co-founder and CEO and Jessica Billinsley is the other co-founder and COO. Billingsley followed a traditional business path of starting a company when she couldn't find the product she needed in the marketplace. She had invested in the first licensed marijuana business in Colorado and was asked to choose the software needed to run the business. Nothing existed. That's when she and Poinsett decided to use their tech backgrounds and create a platform that tracked every gram of marijuana and every dollar, now known as seed-to-sale software. MJ Freeway has 1,000 licenses in 19 states. It is one of the few American companies to translate its product into Spanish and they were also one of the few American companies to attend the World Cannabis Conference in Spain. These girls are going global.
Dr. Lakisha Jenkins – This woman is a powerhouse. She holds a Doctorate in Naturopathy and a BSA in Holistic Nutrtion. She is the founder and CEO of the Kiona Foundation and its subsidiary The Farm'acy, which operate two health cooperatives. She also serves as the founding director and President of Jenasis Cooperative which is a business and employment cooperative. This superwoman is also President of the California Cannabis Industry Association and serves on the board of the National Cannabis Industry Association. As part of the NICA board Jenkins advocates for responsible business practices and corporate accountability. As President of the CCIA, Jenkins has pushed for regulation of the marijuana industry in California and the group is working with politicians to craft legislation that will cut down on illegal cannabis cultivation and protect those willing to work within new regulations.
Juliana Carella – Carella founded Auntie Dolores in 2008. Auntie Dolores is a line of edible medical marijuana products, whose name is a play on the Spanish term pain. Infused products are a small slice of the medical marijuana world, but when it comes to recreational use, some stores are seeing edible products outsell smoked product. Infused owners expect to see a 65% increase in business this year and if more states legalize retail marijuana, the group will see more increases. Auntie Dolores products are available in 150 dispensaries in California and are hoping to expand to other states. The products consistently contain 10mg of THC and range from savory to sweet products. In addition to the brownies, cookies and nuts, Auntie Dolores also makes pet treats. The company hopes to license its brand and has plans to look for more opportunities with investors.