The life of an 8-year-old boy, suffering from Dravet Syndrome, did a complete turnaround when his seizures were allowed to be treated with CBD. This post from The Newnan Times-Herald relates the full story!
If you had met 8-year-old Aiden Whitley before Christmas, you might not recognize him now.
Just a few months ago Aiden, who has the seizure disorder Dravet Syndrome and an autism diagnosis, would spend most of his time staring at the walls.
With his issues, as well as the many seizure medicines he was on, "he was just a zombie," said his mother, Jillian Bramlett. "Sometimes he would get up and go to a different room and stare at that wall."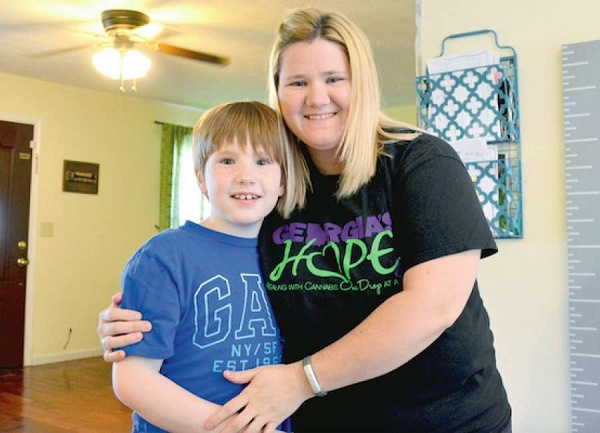 On the seizure medication Onfi, "it made him drool and made him very clumsy. He would run into the walls,"Jillian said.
These days, though, Aiden is bright and playful.
When a newspaper reporter visited the family's home west of Newnan, Aiden excitedly took pictures of her, his mom, and himself. He sat down to draw the reporter a picture, played happily with his Thomas and Friends trains in the living room. And took the initiative to feed the dog.
"That is something he wouldn't have done a few months ago. He wouldn't have any thought in his brain that we have to feed our dogs so they'll stay alive," Jillian said.
The difference in Aiden is thanks to cannabidiol and THC-A, medications derived from marijuana. Aiden started taking cannabidiol (CBD) in December. They added THC-A about two months ago.
"He's like a normal kid. I didn't even know what to do," Jillian said. At first, the change was so overwhelming that Jillian was worried. She took him do the doctor.
"I'm saying 'I think something is wrong with him.' They were running all these tests and said no, everything is fine."
CBD became legal for Georgians with epilepsy and five other conditions in 2015. THC-A will become legal for those same conditions if Gov. Nathan Deal signs HB 783, which passed on the last night of the 2016 Georgia General Assembly Session.
Bills that would have expanded the number of conditions that could be treated with CBD overwhelmingly passed the state House this year, but never came to a vote in the Georgia Senate.
Jillian and Aiden, along with many other Georgians who can benefit from CBD, spent many days at the Georgia Capitol lobbying for the bills.
She had been watching the debate unfold for the past year or so. Then she started reaching out to others. Some friends invited them to come to the Capitol.
"It was just that simple: why don't you come lobby," she said. And so she did.
Though the expansion bills didn't pass, parents aren't giving up. "Right now we are trying to gather as many new faces as we can to go with us, to help lobby. We're starting now," Jillian said. There are plans for panels and events with doctors and professionals.
"The plan right now is really to just inform the people who need to be involved."
There is a lot of confusion about the marijuana-derived medicines and what they do and do not do. They definitely do not get you high.
Despite that, the bills were opposed by law enforcement groups.
Jillian also wants people to know just how difficult it is for people to get the medicine they need. Even though it is legal for Aiden to use CBD and, soon, THC-A, there is currently no legal way to obtain THC-A in Georgia. CBD oil that is extremely low in THC, the main psychoactive component of marijuana, can be shipped through the mail. But many patients benefit from a higher amount of THC than the allowed 0.3 percent. Georgia law allows up to 5 percent THC.
"As a parent, I shouldn't have to deal with that," Jillian said. "He is taking a medication that has helped him. We added another one that is helping him even more. I shouldn't have to go behind the back of the government to do what I have to do."
Aiden's autism diagnosis and some cognitive impairment, as well as very limited short-term memory, is likely related to scar tissue in his brain. The scar tissue was there when Aiden was born, though his seizures didn't start until he was 10-months-old.
"The scar tissue started to spread until he was about six-weeks-old. It didn't stop until he was about 4-years-old," Jillian said.
In March, Aiden had an MRI, and the scar tissue had shrunk. "It was one centimeter, which isn't a whole lot, but there's never been a reduction," Jillian said. "We can't say it's the cannabis, but we feel like it is."
Since Aiden began taking CBD, he's been able to stop taking all of his other seizure medications. He still has seizures, but they're not as frequent and they're not as bad.
Now, Aiden is only have a seizure every month or so instead of every two or three days. Instead of lasting 20 or 30 minutes, they are only two or three minutes, and instead of being groggy for an hour or two after the seizure, "he jumps up and is ready to play."
Aiden used to barely eat and was underweight. Nowadays, "he eats all the time," and has gained about five pounds.
"It's really been amazing," Jillian said.
There's only been one problem – some choking issues and vomiting. Jillian thinks it's related to the THC-A. Doctors have been running tests and say it's just allergies. It worries her, but "just like with pharmaceuticals, you take the good with the bad."
Before medical cannabis, "we kind of had our future with Aiden mapped out," Jillian said. She and his father had made plans about who would take care of Aiden when they passed away. They thought he would always need a caregiver.
Now, "I am hopeful that he won't need anyone to take care of him," Jillian said. "To see him behaving like a normal kid has kind of changed my outlook as far as his future goes. I could totally see him having a job, learning skills."
Photo Credit: PHOTOS BY SARAH CAMPBELL
Source: Coweta child's life changed by CBD – The Newnan Times-Herald