This post from Mint Press News, by Katie Rucke, creates awareness about a biotech cannabis company that is revolutionizing the industry by identifying what effects different medical marijuana strains have on a particular patient and his symptoms.
Medical professionals in 22 states and Washington, D.C., can now legally recommend that a patient use marijuana to help treat symptoms and side effects they suffer from as a result of a severe or debilitating medical condition. But since marijuana continues to be classified as a Schedule I drug on the federal level — meaning the drug has no recognized medicinal value in the eyes of the U.S. government — the research into which kinds of marijuana an individual should use to treat particular symptoms or conditions has been limited.
Once a patient obtains a recommendation from a doctor allowing the legal use marijuana in a medical marijuana state, he or she is largely dependent on the budtenders at local dispensaries to help determine which strains of marijuana would offer the most effective treatment options.
One company, PotBotics, believed to be the first biotech cannabis company in the United States, is working to reduce patients' reliance on budtenders by developing three products that the company believes will change the medical marijuana industry in several ways.
One change PotBotics plans to bring to the industry involves how patients determine which strains of marijuana to use. It is developing technology that will allow medical professionals to determine which strains are going to work for which patients.
Based in New York, and founded in October 2013 by Dr. Boris Goldstein and his son, David, who works as the startup's director of communications, the company offers three products — PotBot, BrainBot and NanoPot —  that are designed to streamline the medical, distribution and cultivation aspects of the medical marijuana industry by taking technology that has been around for years and applying it to the cannabis industry.
A personalized approach
Talking to MintPress News, David Goldstein says that he saw all of the great work his father had done in several industries — including the medical and security fields. Specifically, he mentioned a pre-Alzheimer's electroencephalography test his father designed, which determines if medication is working to help improve a patient's cognitive ability.
After also witnessing advancements in the science and medical fields, the younger Goldstein says he wanted to fill the technology void he saw in the medical marijuana industry. The father and son team didn't want to just create technology for the medical marijuana market — they wanted to help create an educated market in which patients were better informed when it came to buying medical marijuana.
"Doctors give different recommendations knowing cannabis helps patients," Goldstein said, but doctors often "don't know what strains or cannabinoids" work best. As a result, patients are blindly sent to a dispensary for assistance, he says.
"Depending on the state, the budtender may have zero information on what is best for the patient," he continued, since their recommendations may be based off of anecdotal stories from others.
Because of this, he says, many patients are forced to participate in a "trial-and-error" process while they attempt to find the strain of medical marijuana that would work best for them — and this is exactly what the Goldsteins hope to change with PotBotics.
Essentially, the plan, Goldstein says, is to use technology to build a database of cannabinoids found in marijuana and determine the effects these strains have on the human body as well as the neural responses they elicit, enabling patients to make the most informed decision possible when buying their medication.
"We see ourselves as being a solution for a lot of patients who suffer from a variety of ailments," he said, before explaining this is particularly important to him because he has seen people in his own life who were suffering until they were given access to this natural medicine.
His grandmother recently passed away from cancer. While she was taking several different types of medications, he says it was a chewable high in CBD that gave her the relief she had been so desperate to receive.
Dr. Boris Goldstein agrees that the goal is all about patient success. In a press release issued earlier this year, he said, "We want to help patients get better consulting and advice when considering medical Marijuana."
Although none of the company's founders have direct experience in the marijuana industry, the team — members of which have experience with artificial intelligence and other scientific and medical technologies — has lined up advisors, including a few medical professionals who work with medical marijuana patients, pro-medical marijuana advocates who are well-versed in medical marijuana legislation, and dispensary owners in California and Colorado.
While the company is using one kind of technology for all patients, David Goldstein says it hopes to find the best medicinal marijuana strain for individual patients by tailoring the medicine they use based on what a particular strain does and how it reacts with their body chemistry.
He said personalization with medicine is important — not just for marijuana, but also for blood pressure and heart medications — because everyone reacts differently to drugs and other substances, including alcohol. The idea that marijuana is a cure-all for everyone's aches and pains is inaccurate, he continues, as evidenced by patients' frustrations upon discovering that strains that have helped others don't help them with a specific issue.
"Strains come with different matrixes," he explained. While CBD and THC are the most well-known or recognizable cannabinoids in the plant and have their own medicinal benefits, he says, "it is really the mixture of the plant as a whole that provides the relief patients are looking for." This, he reasons, is why PotBotic's technology may eventually help persuade lawmakers that CBD-only legislation isn't the most helpful way to legalize medical marijuana for patients.
As the company prepares to launch its products later this year, the impact the technology will have on the industry has become part of the discussion among industry insiders, who are unsure whether the true intent of the business is to help patients find relief or to help business people get their hands on some "green" by investing early in an industry that is expected to outvalue many other industries, including the computer and Internet industries.
Empirical evidence
Arguably the most important technological product in the PotBotics program is the cannabis-related brain scan.
Using EEG technology Dr. Boris Goldstein had previously developed to examine how medications were affecting Alzheimer's patients, PotBotics plans to team up with medical professionals to offer patients access to an EEG test that would, like the Alzheimer's test, illustrate what kinds of medications were most effective for an individual by monitoring his or her alpha brainwaves after consuming or ingesting medical marijuana.
As part of the BrainBot services, a patient makes a doctor's appointment to determine which symptoms medical marijuana should target, such as insomnia, nausea or pain, so that the doctor has an idea of what kind of strains may help the patient.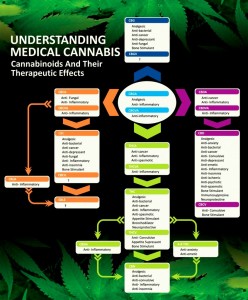 Once at the doctor's office, the patient wears a wireless EEG helmet and ingests a form of medical marijuana such as a pill, drink or a chewable that the doctor believes could help the patient — for example, a sativa strain that is more effective in treating "mental"-related problems, like insomnia and anxiety; an indica variety that is more helpful when it comes to physical problems such as nausea or pain; or a hybrid version.
David Goldstein explains that the test is most effective when a version of medical marijuana that affects the brain faster is used, so a patient doesn't have to wear the helmet longer than five minutes. Chewables reportedly initiate a faster response from the brain than pills, since the individual is actively chewing, which is why he recommends patients use that form of ingestion.
The brain images are then transmitted from the helmet to a central location on a secure cloud database where they are processed by PotBotics-created software that gauges how the brain changed after the medical marijuana was introduced. It's not necessary for a neurologist to read the brain images, as the software "analyzes those images and comes up with a response," he explained.
For example, in the case of a patient complaining of insomnia, the software would search for an increase in activity in the part of the brain that responds to the release of melatonin — the chemical that helps an individual fall asleep. For a patient who is unable to eat, possibly because he or she is undergoing chemotherapy, the EEG can determine which strains of marijuana increase a neurological hunger response.
After the software reads the images provided by the helmet, Goldstein says doctors will be able to more accurately determine what mixture of cannabinoids will help that individual. Doctors can then use the information to prescribe a more specific strain of cannabis to treat different ailments, instead of blindly sending a patient to a dispensary that could be selling hundreds of different strains of marijuana in a variety of forms.
He says the company recommends that patients come in and try two or three different strains of marijuana located around the same region on the "cannabis spectrum" so that the doctor can determine more specifically what would likely work best.
Smoking and vaporizing are not allowed in a doctor's office, which is why those forms of ingestion would not currently be allowed in the BrainBot process. However, Goldstein says the FDA-approved helmet is still designed to be able to read those ingestion methods, since he recognizes that some people prefer smoking marijuana to eating it.
He added that the company is working on developing an EEG helmet that a patient would be able to take home to do more tests on the effects of different strains. These results would be tracked on a mobile app.
No known results — yet
Since the BrainBot is still in the beta-testing stage, is not entirely clear how effective and accurate the technology is compared to a budtender or a conversation with other medical marijuana patients. Between 15 to 20 medical professionals have agreed to test the BrainBot, but who these doctors are and where they are located has not yet been revealed.
The technology is expected to be released in the U.S. later this year, with the helmets for at-home use slated for a 2015 release. The costs to patients have not yet been calculated, but since the technology would be used to help recommend a federally-prohibited substance, medical insurance likely won't help cover the costs.
As the company is still negotiating with medical professionals, Goldstein says it's not yet clear how much it will cost to install and operate the technology in doctor's offices.
Currently, the BrainBot is being tested at the University of Amsterdam, where Goldstein says medical professionals are studying the percentage of cannabinoids that are released with varying strains of marijuana in its different forms. He didn't share any results with MintPress, but he seemed confident that the technology, which was largely created for other purposes throughout the last decade or so, was achieving the goals he and others have hoped for.
As far as future studies go, he says the company wants to first look at the different cannabinoids in the plant and the effects they have on the human body, but it is also interested in comparing synthetic versions of medical marijuana made by pharmaceutical companies, such as Marinol and Epidiolex, to natural forms of THC and CBD, to see how the brain is affected.
Robotic recommendations
For those patients who are unable or unwilling to visit a doctor for a BrainBot scan, PotBotics has also created an "artificially intelligent avatar," known as "PotBot," that Goldstein says uses "cutting-edge neural-net algorithms to recommend custom strains" for each patient.
The PotBot technology will be implemented in robotic kiosks, vending machines, as well as online and mobile apps. Patients will enter information such as what kinds of strains they are using so PotBotics can track information such as which strains, strengths of THC and forms of consumption are the most popular among patients, allowing manufacturers and growers to plan accordingly.
PotBotics also takes support for growers one step further with its NanoPot technology, which the company says uses "advanced DNA readers to scan seeds" in order to generate a customized growth chart with information on how much sunlight, water and other care each strain requires so that growers can maximize their yields.
Going back to the PotBot technology, if a patient feels that a strain of marijuana is losing its potency with continued use — as many patients do develop strain resistance — PotBot asks a patient what kinds of relief he or she is seeking, then recommends a new strain of marijuana for the patient to try.
Although Goldstein argues that the level of support budtenders currently offer to patients is subpar, many dispensary owners — especially in states like California and Colorado — may disagree.
Educated budtender
Patients Care Collective, a dispensary based in Berkeley, California, has a post on its website titled "Beginners Guide to Medical Cannabis — Choosing the Right Strain," in which the dispensary tries to simplify the process for those who are green when it comes to purchasing medical marijuana.
Patients Care Collective explains the different types of mental and physical effects that can occur across the marijuana spectrum, and offers examples of strains people can look for.
For example, someone who is looking for a strain that could be ingested during the day is likely going to want to have a clear head and energy, so the dispensary would recommend a Clear Sativa such as Strawberry Kush, Jack Herer or Kali Mist. If a patient is looking for a strong psychoactive effect and wants to relax, a Heavy Indica, such as MK Ultra, Grand Daddy Purple or Peak 19, would be good candidates.
Budtenders at the Berkeley dispensary note that new information about the plant is being discovered all the time. Explaining that the latest research shows that flavor contributes to the drug's effects, they recommend a patient not use a strain that doesn't smell good to them.
Another tip the dispensary offers is for users to choose three to four different strains in order to help limit strain resistance, since "each strain has a ceiling or limit to the amount and type of cannabinoids that can be received by your body at a certain time," the group wrote. "This is why you gain a tolerance faster to certain strains and others seem to medicate the same way for longer.
"By choosing to use different strains, about three of four, that you can rely on, it is easier to keep your cannabinoid receptors fresh and ready to be activated by the next type of medicine you are using. This will help you conserve your medicine and get the maximum effect from it. Having a few strains to medicate with can also help to reach the desired cannabinoid balance you are looking for."
PotBotics' Goldstein didn't mention anything about patients using multiple strains to prevent strain resistance in the interview with MintPress News, even when specifically asked about how he would work to prevent strain resistance. But then again, he's made it his mission to streamline the process to a point where experimenting with different strains is eliminated entirely, which is something that dispensaries such as Berkeley's Patient Care Collective believe is part of the process for new patients.
How effective PotBotics inevitably will be is something that remains to be seen, but it's likely that patients will appreciate cutting the amount of time it takes to find a strain that works for them, so they can be provided the relief they so desperately desire.