Police departments across the U.S. are issuing warnings to parents to be vigilant for marijuana candy making its way to the kids' Halloween baskets. This post from The Cannabist assesses the likelihood of such a thing becoming a reality and offers sound advice for parents.
Looking back to Halloween 2014 in Colorado and Washington: Should parents worry over marijuana in Halloween candy?
With Halloween 2015 less than a few weeks out, government agencies across the U.S. are already putting the word out about the possibility of marijuana-infused candies being given to trick-or-treating children on the candy-fueled holiday. We look at Halloween 2014 in Colorado and Washington to see if that is a real concern.
The Arizona Poison and Drug Information Center recently warned parents in an Arizona Daily Star op-ed: "Parents should also be on the lookout for any edible marijuana treats. The edible marijuana can look like a regular treats." Police in Conroe, Texas, issued a warning to parents after finding marijuana and pot-infused edibles during a late-September bust. Police in Florida did the same thing in mid-October — which was around the same time police in New Yorkissued the very same parental warning.
These agencies' concern: Some pot-infused edibles closely resemble their sugar-only counterparts, so parents living in 420-friendly Washington or prohibitionist Texas should be concerned about these infused candies finding their way into trick-or-treaters' candy sacks.
The conversation is a familiar one to residents of Colorado and Washington, who contemplated such questions one year ago in the weeks leading up to the first Halloween after legal recreational marijuana sales began in those two states.
And here's how that conversation started — and ended — in October and November 2014.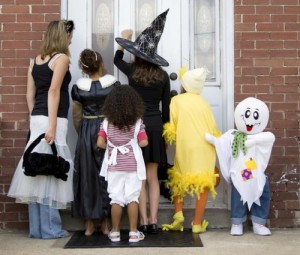 1. Police in Denver warned parents via YouTube. "With Halloween fast approaching," the police department noted on its YouTube page, "Colorado citizens are in a unique position in the country — watching our kid's candy for marijuana edibles. Learn how some marijuana edibles can be literally identical to their name-brand counterparts, and get a reminder about sweets safety for all your little trick or treaters this year."
2. One parent responded, looking back to Halloween history. Cannabist parenting columnist Brittany Driver wrote: Yes, a couple deranged individuals have altered the Halloween candy they gave to neighborhood children over the decades, and from those seeds the urban legend grew. But for the most part, it would appear as though the indiscriminate misfit who tampers with children's candy for the fun of it lives primarily in our minds.
3. An advocacy group bought billboards that asked, "Marijuana Candy: Trick or Treat?" "Spotting the pot in your kids' candy is difficult, Halloween or not. The real question is why is marijuana in kid's candy in the first place?" Diane Carlson, co-founder of Smart Colorado, said at the time. "It's our responsibility as a community to provide children, teens, parents, teachers, medical professionals, employers and neighbors with the information necessary to protect Colorado citizens and, most importantly, our kids."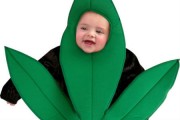 4. A popular Halloween costume emerged for newborn babies, dressing the kids as marijuana plants. "We kind of know people are not going to be 100 percent thrilled with (a Halloween costume that dresses babies as a marijuana leaf), but it's Halloween," online costume retailer Johnathon Weeks said at the time. "Halloween is one day out of the year you can dress up and be anything you're not the other 364 days."
5. Another parent responded, pointing out that Halloween is the deadliest day of the year for child pedestrian fatalities. Joe Hodas, a parent and cannabis industry executive, wrote: The amount of hysteria that has been generated around marijuana candy is not only unfounded, it's insulting to a legalized industry that is striving to do all it can to ensure we meet the highest standards of safety. Marijuana, in its many forms, has been around far longer than the urban legends of razor blades and poisoned apples, or even cars, yet there has never been a case of some unsuspecting child being given a marijuana edible on Halloween. Making the assumption that now that marijuana is legal, we as a community will suddenly lose common sense and decency by giving a child marijuana? It reeks of a very malicious form of discrimination against those who choose to use marijuana as responsible adults.
6. A Maryland police department seized pot-infused edibles in a late-October bust — and then issued warnings to parents about laced Halloween candy. The question needs to be asked: Were these cannabis candies really shipped illegally 1,500-plus miles to the East Coast for the sole purpose of being given away to trick-or-treaters?
7. The day after Halloween, the aftermath. Denver Police, Seattle Police and the Rocky Mountain Poison and Drug Center reported no cases of people slipping marijuana to unsuspecting trick-or-treaters. "We didn't have any admissions for accidental ingestion for children in our Pediatric (Emergency Department) this weekend," Kelli Christensen, spokesperson for Denver Health Medical Center in central Denver, said at the time. "People got the message and were very diligent about it, so it was a successful holiday from our end."
8. We're more likely to catch Ebola than to receive pot-laced Halloween candy. This one even has a chart: You're more likely to contract Ebola in the U.S. than you are to get marijuana-laced candy in your Halloween basket. Despite literally hundreds of wide-eyed press accounts of the "danger" of marijuana-infused Halloween candy, we are three days into November without a single instance of Halloween-related pot poisoning coming to light. None. Zero. Zilch.
That's how it went down in 2014. And here we are a year later asking that same question: "Do I need to worry about my kid getting pot-infused edibles from some psycho this Halloween?"
As our parenting columnist wrote last Halloween:
I say, if you do your due diligence, the chances of that happening are minuscule to none.

It all boils down to common sense, mom and dad. Don't be dumb. The old rules apply — check your kids' candy. If something is unwrapped, homemade or looks or smells funny don't chance it — just toss it. At the very least it's one more potential cavity avoided, no? Your child will have plenty of safe options left after you have done a little quality control.
Source: Halloween 2015: Is marijuana candy really a concern for trick-or-treaters?