In this post from BuzzFeed News, Amanda Chicago Lewis reports that pot businesses looking for a carefree party at the High Times Cannabis Cup in Colorado on 4/20 instead found a strictly regulated environment closely watched by law enforcement.
This past Saturday, two plainclothes law enforcement officers spent several hours wandering the High Times Cannabis Cup in Denver in search of anyone selling or giving away marijuana.
With a studied nonchalance, they walked past bros in Burberry sucking on vaporizer pens, women with gray dreadlocks hitting mega-blunts, and giddy college students who had flown in for the weekend just to legally get high. But when the officers saw a scrum of stoners gathered below a sign advertising grams for $10-$25, one discreetly took out a smartphone, aimed it at the man behind the counter, and snapped several shots of the cash and the nugs changing hands. Then, without alerting anyone to their presence, the officers strolled over to the next row of booths.
Narcs surreptitiously looking to bust dealers was not quite what attendees looking for a carefree pot party expected at the 2015 Denver Cannabis Cup in Colorado on 4/20 weekend. The event was caught in an emerging paradox of legalization: The more legitimate the weed industry gets, the more control the authorities can exert. Shortly before the Cup event, entrepreneurs were told by Colorado authorities they couldn't sell marijuana or offer free samples, eliminating the main reason many businesses had shelled out for booth space. The confusion and frustration in Denver this year reflected the marijuana industry's changing relationship with High Times, the magazine that has spent the last four decades championing pot's legitimacy.
Founded in 1974, High Times has long served as a sort of stoner bible, flouting prohibition by telling readers how to grow the best buds and covering stories of interest to smokers. Before opposing the war on drugs was popular, High Times was the lonely crusader, the one publication taking legalization seriously.
From 1988 until 2010, when High Times held its first U.S. Cup in Southern California, the Cannabis Cup had been less of an industry convention and more of an annual group trip to the Netherlands to celebrate and judge the year's best strains. But now the magazine hosts seven enormous festivals each year, attracting tens of thousands for a weekend of concerts, schmoozing, and, of course, getting high. High Times editors say they would love to eventually host one in every single state. Though each Cup still involves an awards ceremony, the heart of the event happens during the day, when any marijuana business with enough cash to pay for a booth space will offer samples and hawk products.
But recent tangles with local governments in Denver and Amsterdam have left some of the increasingly professional entrepreneurs in the weed business resentful of the magazine's dominance, raising the question of whether High Times will be able to maintain its authority during the transition to legalization, or whether a more polished organization will emerge to take its place.
"There's a big gap between a High Times event and a proper, mainstream, well-produced event," said Don, one of the co-founders of the Amsterdam-based seed company DNA Genetics.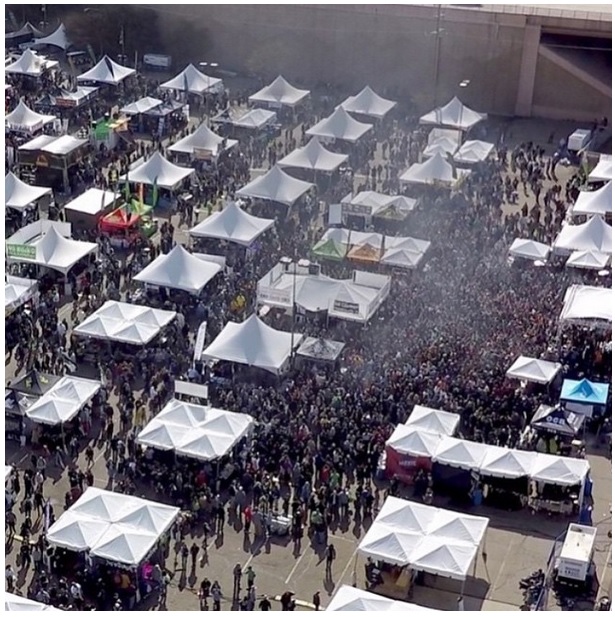 Back in November, the 27th Amsterdam High Times Cannabis Cup was abruptly shut down by the city the night before it began. When it did reopen, on the second day, it was only with new restrictions that were so strict most people didn't even bother showing up.
"Amsterdam was looking like the bad guy because they were saying no, and High Times was looking like the bad guy because they didn't get the proper permits from Amsterdam," said Don, who started his seed company in 2003 and is widely seen as an industry leader. He predicted that marijuana-themed events would soon need to be as smoothly run as the International Auto Show in Detroit or the Consumer Electronics Show in Las Vegas.
Already, the High Times Cannabis Cups have inspired a host of imitators, from HempCon to Dope Magazine's Dope Cup to the Secret Cup, and some wondered whether festival operators run by publicly traded corporations, such as Goldenvoice or Live Nation, might move in on the growing market for cannabis events in coming years.
Talk of an alternative to the High Times juggernaut ramped up this weekend, but it wasn't clear who was to blame for the confusion. After businesses had already paid High Times thousands of dollars for booth space, Colorado's Marijuana Enforcement Division (MED) issued a memo on April 3 reminding everyone that selling pot away from the site of a licensed dispensary and giving away free samples remained illegal. Since the MED had mostly looked the other way on these technicalities for last year's Cup, most businesses were caught off guard, with some not even aware these rules would be enforced until less than a week ago.
"We did think we were going to be able to sell concentrates. We found out [that we couldn't] pretty much two days before, so it was kind of a damper," said Ryan Camarena, whose company Au Extracts is less than a year old. "We wanted to show people our stuff and get recognized."
Unable to sell or offer samples of pot products, all of Colorado's licensed marijuana businesses except one resorted to selling T-shirts, handing out business cards, and, in some cases, abandoning their booth entirely after the first or second day. Some out-of-state businesses, on the other hand, felt the memo had not been directed at them and continued to offer samples, though most were afraid to sell actual pot, edibles, or hash oil.
Some entrepreneurs were left annoyed at High Times for either failing to foresee this problem or for accepting their cash without giving them a heads-up that they would not be able to recoup their investment with sales.
"They're really good at taking money, but they're really bad at giving money back," said one California cultivator, who has been in the industry for several years and admitted he owes much of his success to promotion done at High Times Cups.
The cultivator said he had been particularly angry when the magazine refused to refund the money he and others spent on booth space in Amsterdam last November, instead rolling it over as credit for a booth at a future event.
In Denver, rumors swirled about whether certain friends of High Times editors had been tipped off that the crackdown on sales and samples was coming. A dispensary owner from Los Angeles told BuzzFeed News that he had been warned by the magazine in advance to not bother paying for a booth.
Dan Skye, the editor-in-chief of High Times, denied this.
"We don't put on events knowing some kind of inside information that's going to piss people off. We are up-front with people," he said. Skye told BuzzFeed News that the magazine hadn't been aware that Colorado planned to prevent businesses from selling and offering samples at the Cup until the MED issued its memo.
"There are no negotiations to be had with the MED," Skye said. "We are in complete compliance. Some people are distributing cannabis. This is not our problem. This is for the MED to figure out."
Indeed, the roving law enforcement officers taking photographs said they planned to pass on the information about which out-of-state businesses had sold marijuana—and therefore had likely committed a felony by transporting the products across state lines to Colorado—to their counterparts in other states.
One of the Cup's attendees, a 21-year-old woman who had flown in from Los Angeles with her boyfriend, found the new rules and the prohibition-era atmosphere it created puzzling.
"They should be able to sell and give samples," she said. "I mean, that's the whole point of a convention, right? When you have, like, a bridal convention or a car convention, you can go and look and buy if you want to buy."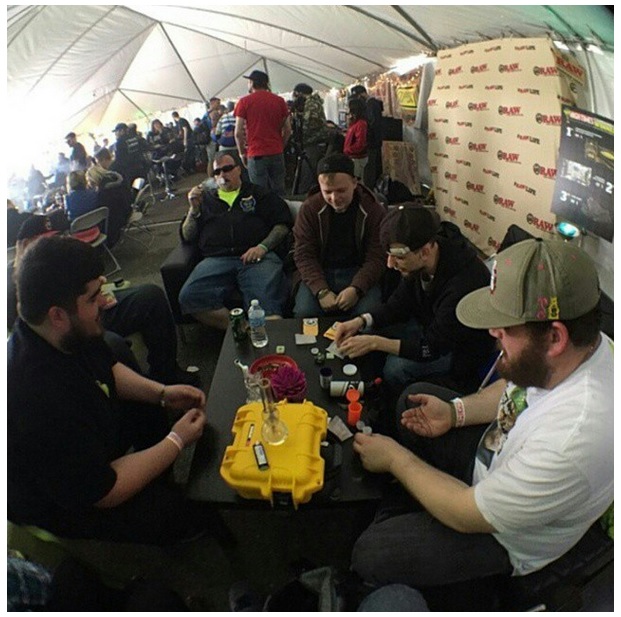 via Ganjapreneurs Say The High Times Cannabis Cup Was A Total Buzzkill – BuzzFeed News.