In this post from Forbes, Debra Borchardt highlights a study that showed no evidence that legalized medical marijuana led to teenagers using pot more.
One of the biggest worries about legalized medical marijuana was that teenagers would smoke more pot, but it turns out those fears were wrong. A study just published in The Lancet Psychiatry showed no significant difference in adolescent marijuana use in the 21 states with medical marijuana laws.
This exhaustive study using over 24 years of data from over a million teenagers in 48 states found no evidence that legalized medical marijuana led to teenagers using pot more. Deborah Hasin, Professor of Epidemiology at Columbia University Medical Center in New York, reviewed data on teenagers between the ages of 13-18 and during the years 1991-2014. "Our findings provide the strongest evidence to date that marijuana use by teenagers does not increase after a state legalizes medical marijuana. Rather, up to now, in the states that passed medical marijuana laws, adolescent marijuana use was already higher than in other states. Because early adolescent use of marijuana can lead to many long term harmful outcomes, identifying the factors that actually play a role in adolescent use should be a high priority," said Dr. Hasin.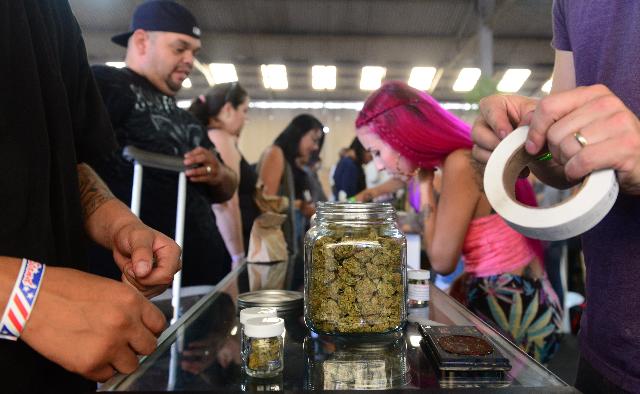 Card-carrying medical marijuana patients attend Los Angeles' first-ever cannabis farmer's market at the West Coast Collective medical marijuana dispensary, on the fourth of July, or Independence Day, in Los Angeles, California on July 4, 2014 where organizer's of the 3-day event plan to showcase high quality cannabis from growers and vendors throughout the state. AFP PHOTO/Frederic J. BROWN (Photo credit should read FREDERIC J. BROWN/AFP/Getty Images)
This study supports the 2013 report from the Colorado Department of Health and Environment that found that high school marijuana use decreased from 22% in 2011 to 20% in 2013. The data was collected before recreational marijuana was made legal, but it did demonstrate that legalizing medical marijuana did not send the message that it was okay to use. Dr. Larry Wolk, the CDPHE director said, "As with tobacco, youth prevention campaigns will help ensure adult legalization of marijuana in Colorado does not impact the health of Colorado kids."
In California where medical marijuana has been legal for many years in an unregulated environment, marijuana use in teens has remained less prevalent than the years before the marijuana was legal according to results from the 13th Biennial California Student Survey. Stepping back to 2012, a study entitled, "Medical Marijuana Laws and Teen Marijuana Use" by D. Mark Anderson, Ben Hanson and Daniel Rees did not find that legalizing medical marijuana increased pot use in teens. They actually found that during the time period they collected data, pot use increased among teens, but not in the states where medical marijuana was legal.
In a linked comment to the study by Dr. Hasin, Dr. Kevin Hill of McLean Hospital's Division of Alcohol and Drug Abuse said, "The growing body of research that includes this study suggests that medical marijuana laws do not increase adolescent use and future decisions that states make about whether or not to enact medical marijuana laws should be at least partly guided by this evidence. The framework of using a scientific method to challenge what might be ideological beliefs must remain an important driver of future research on marijuana policy."
Organizations that are against legalizing medical marijuana like Smart Approaches to Marijuana cite a report from Monitoring the Future by the University of Michigan that says access to pot has increased and usage is up. The report, a National Survey on Drug Use, instead notes that pot use cycles up and down amongst teens and that it has actually dropped in 2013-2014. 23% of teens use marijuana now as compared to 36% in 1979.
This report points out the marijuana has been the consistently most available illicit drug since 1975 where 81% of teens said they could get it,moving up to 90% now. However, being about to get it and wanting to use it are two different things. The report said, "In 2014 marijuana use showed a one-year, slight decline in lifetime, annual, thirty-day, and daily use in all three grades. This finding is unexpected in light of the positive publicity marijuana has received in recent years prior to the data collection in 2014, with several states allowing medical marijuana use and two states (Colorado and Washington) legalizing recreational use for adults."
The report goes on to speculate that legalizing medical marijuana could send the signal to teens that the drug isn't dangerous and probably won't be very harmful. That certainly doesn't fit with the idea of being a rebellious teenager. Adults thinking that smoking pot is cool could be the easiest way to keep to teens from smoking it.
via Legalized Medical Marijuana Doesn't Increase Teen Usage, Study Finds – Forbes.