Issue 3 may have failed in the 2016 election, but the fight is not over for ResponsibleOhio. They now want to find out why voters rejected their plan. This post from Marijuana.com reports the plan of Issue 3's backers to put a revised proposal before voters as early as next year.
One week after Ohioans resoundingly rejected a marijuana legalization proposal that even many longtime reform advocates opposed, the funders and campaign organizers behind the failed effort are back at the drawing board, trying to craft a revised measure that can win voters' support at the ballot box next time.
The defeated measure, known as Issue 3, turned off many legalization supporters by including provisions granting the very funders who paid to put it on the ballot exclusive rights to commercially cultivate cannabis. The campaign also angered national advocates by using a marijuana superhero mascot as a prop, stoking concerns about marketing to children.
Now, ResponsibleOhio, the group behind Issue 3, has launched a survey on its website to find out what concerned supporters and would-be supporters in the state. It asks respondents to choose their three biggest sticking points among a list of issues, such as: number of grow sites, division within the activist community, tax rates and lack of home extraction, among others.
The survey's opening questions seem to indicate that ResponsibleOhio has heard the complaints about the oligopolistic growing model and using marijuana mascots loud and clear: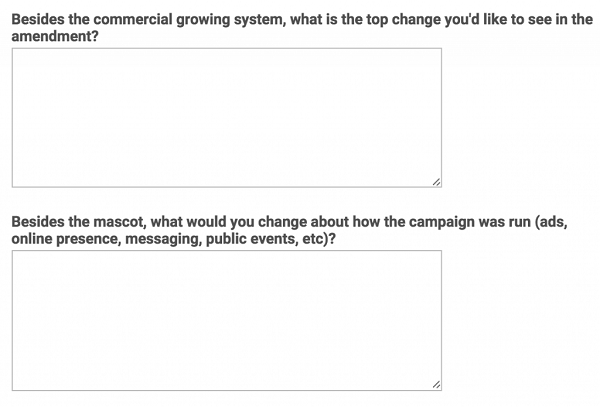 By inviting respondents to weigh in on anything except for the rigged cultivation structure and the marijuana superhero mascot, ResponsibleOhio is sending the message that they don't need to hear anything more about those concerns and that they aren't planning to make those fatal mistakes again next time around.
In a Facebook post announcing the survey, the group says it is "committed to returning to the ballot box to reform our state's broken marijuana laws. We want a consensus plan that works for you."
Separately, Ohio state lawmakers have expressed openness to passing medical marijuana legislation in the near future.