Medical cannabis, with its anti-inflammatory properties and without the side effects of opiate use, is gaining popularity as a treatment for arthritis. This post from Leafly gives a low-down on the role medical cannabis can play in dealing with arthritis.
It's no secret: America's baby boomers are aging, and one of the most common ailments in older populations is arthritis. According to the U.S. Center for Disease Control and Prevention(CDC), 53 million Americans have arthritis, with women making up 60 percent of the arthritis diagnoses. But what exactly is arthritis, and how can cannabis help it?
What is Arthritis?
"Arthritis" is an umbrella term used to describe 200 rheumatic diseases affecting the joints and their surrounding tissues. It causes inflammation and stiffness that develops abruptly or gradually around one or more joints.
Causes and Forms of Arthritis
Although more common in seniors, arthritis can severely impair a person of any age, leaving him or her unable to work or perform daily duties. In the United States, arthritis is the most common cause of disability, and high levels of stress and depression are often associated.
Genetics may cause arthritis, along with obesity, joint damage, infections, and occupations requiring repetitive bending or squatting. Dysfunction of the immune system and an abnormal metabolism can also lead to various forms of arthritis, though many rheumatoid diseases are caused by a combination of factors.
Forms of arthritis are broken into seven main categories:
Inflammatory arthritis — joints become inflamed for no apparent reason.
Degenerative or mechanical arthritis — the body tries remodeling the bone to restore stability. Osteoarthritis is an example.
Soft tissue musculoskeletal pain — pain felt in tissues rather than joints or bones, affecting overused body parts. For example, "tennis elbow."
Back pain — unspecified pain associated with muscles, discs, nerves, ligaments, bones, or joints in the back such as osteoporosis.
Connective tissue disease — pain in tendons, ligaments, and cartilage characterized by inflammation of the skin, muscles, lungs, and kidneys.
Infectious arthritis — inflammation in a joint caused by bacteria, viruses, or fungi (examples of causes include food poisoning, STDs, and Hepatitis C). Antibiotics can usually treat it.
Metabolic arthritis — too much uric acid may form sharp crystals in a joint that cause sudden, excruciating pain. Gout is an example.
Arthritis Treatment Methods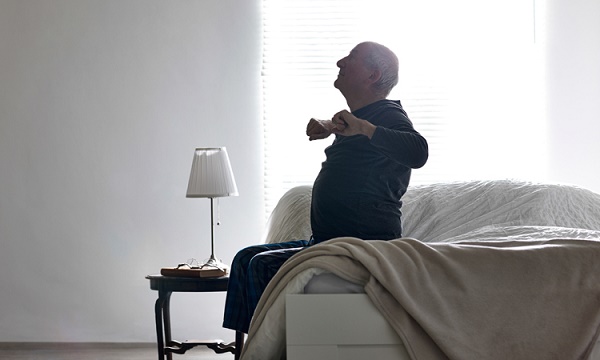 Although they don't heal joint inflammation, analgesics like Tylenol, Percocet, and Vicodin may be prescribed to reduce pain along with creams containing menthol or capsaicin. Over-the-counter non-steroidal anti-inflammatory drugs (NSAIDs) like Advil, Motrin, or Aleve may be taken to reduce pain and inflammation.
Rheumatoid arthritis is treated with disease-modifying anti-rheumatic drugs (DMARDs) to prevent the immune system from attacking inflamed joints. Corticosteroids like prednisone and cortisone may also be prescribed to reduce inflammation and suppress the immune system.
Exercise can ease pain and stress levels for people with arthritis, but nearly a quarter of adults diagnosed with arthritis report being physically inactive. Dietary changes may manage arthritis, as meats and foods high in sugar can exacerbate inflammation.
How Cannabis Can Help Arthritis
While cannabis is classified as a Schedule I drug by the federal government, meaning it's considered highly addictive with no medical value and research on it is severely restricted — a scientific consensus has nevertheless emerged on its therapeutic value based on a growing body of successful preclinical and clinical trials. To the delight of many, those studies show that cannabis has anti-inflammatory effects that can help arthritis patients live happier, healthier lives.
Consequently, cannabis is gaining popularity as a treatment for arthritis. Cannabis can ease pain and reduce swelling without the potentially life-threatening side effects caused by frequent NSAID or opiate use.
In the summer of 2015, the Canadian Arthritis Society funded a three-year research grant to a Dalhousie University researcher to determine if marijuana can relieve pain or repair arthritic joints. Pain-detecting nerves are filled with cannabinoid receptors, and according to researcher Jason McDougall, cannabinoids control the firing of pain signals from the joint to the brain by sticking themselves to nerve receptors. Another controlled study, conducted by the Royal National Hospital for Rheumatic Disease in the UK, showed that cannabinoids provided statistically significant improvements in pain on movement, pain at rest, and quality of sleep.
At a time when opiate abuse has reached epidemic proportions, cannabis treatment can be a far less harmful and less addictive way to treat those suffering from chronic pain associated with arthritis. According to Mike Hart, MD, head physician of the Ontario Chapter at Marijuana for Trauma (MFT):
"Cannabis is much more effective and safer long term solution than opioids. The science is clear and demonstrates that cannabis is far safer than opioids. In fact, it's not even close. Opioids have killed more people than all illegal drugs combined, while cannabis has never killed a single person."
Not only is cannabis an effective alternative treatment to NSAIDs or opiates, it can help people get off dangerous drugs such as opioids. According to Dr. Hart, "I have literally helped hundreds of patients reduce or eliminate their dependence on opioids."
In addition to increasing numbers of professionals within the medical industry recognizing the therapeutic value of cannabis, the public has also become more receptive to medical marijuana treatment. In January 2014, CBS News conducted a national poll finding that 86 percent of Americans believe doctors should be permitted to prescribe cannabis to patients who suffer from serious illnesses such as arthritis. As far back as 2004, the American Association of Retired Persons (AARP), which boasts 35 million members, published a national poll revealing that 72 percent of seniors support allowing the use of doctor-recommended cannabis to treat patients.
Source: Cannabis and Arthritis – Leafly