In this article from Smell The Truth, David Downs reports a new Israeli study that confirms smoking pot relieves pain. Vaporization of the whole-plant marijuana was used in the study
Yet another study confirms smoking pot relieves pain.
Vaporized, whole-plant cannabis reduced chronic neuropathic pain by 45 percent, according to the results of a study published in 'The Journal of Pain and Palliative Care Pharmacotherapy' Aug. 13.
Israeli physicians gave eight patients suffering from otherwise untreatable nerve pain whole plant cannabis via a Syke inhaler — which is essentially a vaporizer. It heats the mature, unfertilized female flowerbuds to release therapeutic vapor, without burning it.
"A significant 45% reduction in pain intensity was noted 20 minutes post inhalation (P = .001), turning back to baseline within 90 minutes. Tolerable, lightheadedness, lasting 15–30 minutes and requiring no intervention, was the only reported adverse event," the study's authors report.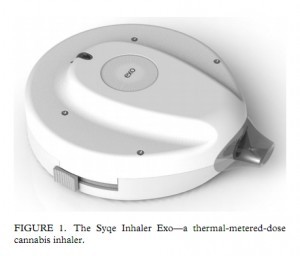 Patients inhaled a single 15.1 ± 0.1 mg dose of cannabis, which is just a tiny pinch, via the Syke inhaler. Along with Sativex and Epidiolex, the Syke inhaler is part of a new generation of pharmaceutical preparations of whole-plant cannabis — as opposed to synthetic THC.
A United States government blockade on marijuana research radically hinders development of cannabis preparations in the U.S.
"Most of the studies focus on the potential therapeutic uses of individual cannabinoid chemicals from marijuana or synthetic versions and not the plant itself," The New York Times reports.
About 86 percent of Americans support medical access to cannabis.
via Smell the Truth » Marijuana vaporization reduces pain, new Israeli study finds.